Summer, are you coming anytime soon? I'm confused. One day, I'm shivering, the next it's all blue skies, and then I'm back in my sweaters and boots again. No wonder I'm craving a big plate of rustic Tuscan Panzanella (bread) salad. It's sunshine on a plate!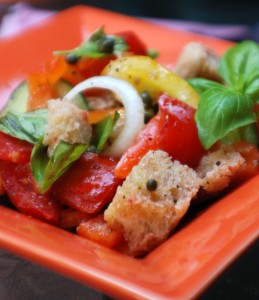 Just look at that. What's not to love about plump cherry tomatoes and crisp peppers colored red, orange and yellow; thin slices of onion and cucumber, basil, capers and cubes of crusty dayold bread—all dressed simply with oil and vinegar.
Oh my. Savor the flavor explosions with each bite. Smell the basil! It's the scent of hope.
Summer, get a move on.
Print a copy of Panzanella Salad for your convenience.
Join Beyond Wonderful on Facebook.