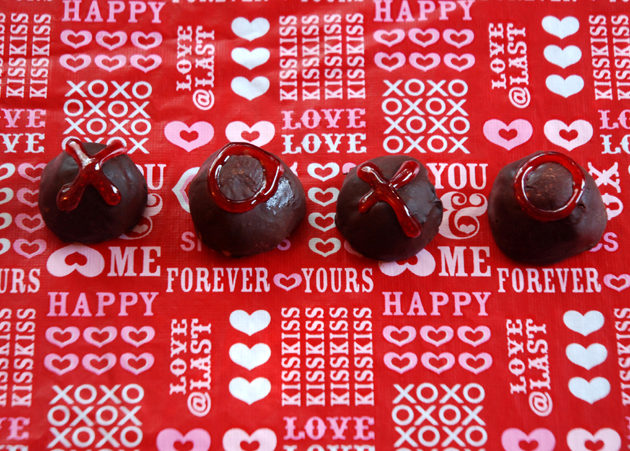 My late friend and cook extraordinaire, Leela Manilal, always enjoyed the luscious chocolate desserts at my table—especially the truffles. She once asked if I would teach her how to make them, and I knew that my favorite chocolate-Kahlúa truffles would be the perfect place to start. They are easy for beginners and offer a sophisticated depth of flavor that satisfies the most devout truffle lovers, including Leela.
I took her into my kitchen where she spied a large block of chocolate and pitcher of cream on the table. She stared for a moment and said, "That's it? How can two basic ingredients produce perfection?" The secret I noted is in the chocolate. Always use best quality brands like Valhrona, Scharffen Berger or my personal favorite, Barry Callebaut. All are easily available at good grocery stores, online baking supply sites or kitchen stores. Inexpensive supermarket chocolate is not worth your time or money in this instance.

I handed Leela a sharp chef's knife and showed her how to chop the chocolate into small, uniform pieces so that it would melt evenly. "Barbara, that's so much chocolate. Is this really necessary?" If you leave large chunks, they won't melt completely and you could have lumpy truffles.
Lumps seemed almost inevitable when I poured the hot cream over the chocolate. As any experienced truffle maker knows, this step instantly creates an alarming mass of puddles and chocolaty blobs. "Now what?" asked Leela in frustration. "It's a muddy mess!" I handed her a whisk and reassured her all would be well.
As Leela whisked with a vengeance, I told her how an assistant to culinary great, Auguste Escoffier, invented chocolate truffles when he made a huge mistake in his kitchen over 80 years ago. The assistant was whipping up some chocolate pastry cream and not paying attention as he accidentally poured hot cream over a bowl of chocolate pieces. Sacre bleu! What to do? Soon the melting chocolate absorbed the cream and cooled into the malleable mixture that we know as ganache. Reluctant to waste expensive ingredients, the assistant scooped and formed the ganache into lumpy, bumpy balls and rolled them in cocoa powder. The resulting confection strongly resembled truffles those rare, highly prized fungi dug up in parts of France and Italy. Voila! Chocolate truffles were born.
Today, there are hundreds of truffle variations as cooks flavor them with Grand Marnier, Kahlúa, brandy, whiskey, a variety of wines, liqueurs and extracts and coat them with crushed nuts, cocoa powder, chocolate shavings, sugars and spices—or dip them into warm liquid chocolate.
Soon Leela's hard work was rewarded, as the mixture came together into a satiny smooth batch of perfect ganache. I handed her a quarter cup of Kahlúa to flavor the mixture. "That isn't much," she observed. Therein lies the secret to flavoring truffles: always go easy. There is nothing worse than those that reek of alcohol or send you into hand-flailing contortions with over-the-top taste. Be especially careful with flavorings designed for serious bakers, as they are more intense than the supermarket extracts we are all familiar with.
Once the ganache sets in the refrigerator, creating uniformed sized truffles is easy with a one and one-quarter-inch ice cream scoop. Perfectionist Leela struggled to roll perfectly round balls between her warm hands—with messy results. I laughed as she held up her chocolate-covered hands, looking much like a kid making yummy mud pie. Before long, she learned to embrace the imperfections of a quick scoop, working swiftly to keep the ganache cool, firm and easy to handle. Since this was a lesson, I had Leela roll some of her truffles in chopped pistachios while others got a dusting of cocoa powder. For the tour de force, I gave her a bowl of molten chocolate with two forks for dipping the remaining truffles. To my mind, there is nothing better than double chocolate.
Packing up the truffles was bittersweet because Leela was leaving for her home in New Delhi, India the next day. I slipped a pound of Callebaut chocolate into her suitcase and knew that she would spread the magic of truffles to her family and friends. It was one of the last time we cooked together before she passed away after a valiant fight against cancer. Today, I think of her every time I make truffles and know that she would love muddying her hands with all that delicious chocolate cream.
Get a printable Chocolate-Kahlúa Truffles for easy reference.
Refer to my illustrated, step-by-step instructions on  How To Chop Chocolate for Melting and How To Melt Chocolate.