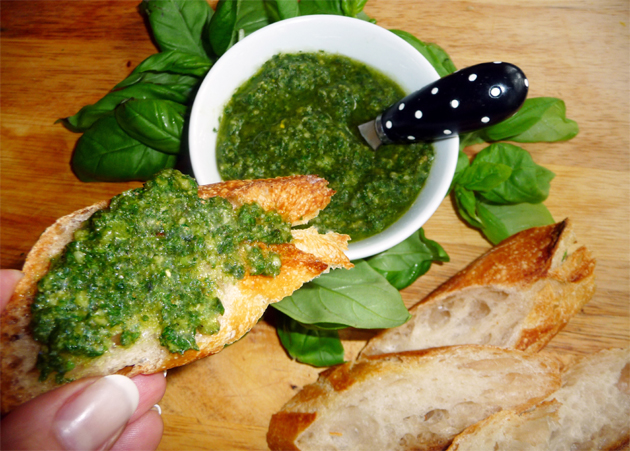 Every autumn just before my cold-weather nesting instincts kick-in, I capture the scent and taste of summer basil in a huge bowl of pesto for freezing. You may think of making pesto as a complicated, time-consuming process best avoided in favor of expensive jars sold at upscale markets. Not. Nothing could be quicker, easier and more delicious than homemade—cheaper, too.
Pesto requires five basic, best-quality ingredients: fresh basil, grated parmesan cheese, pine nuts, garlic and olive oil. It's hardly any extra trouble to make multiple batches, so I always buy ingredients in bulk and make a whopping 18  batches for freezing.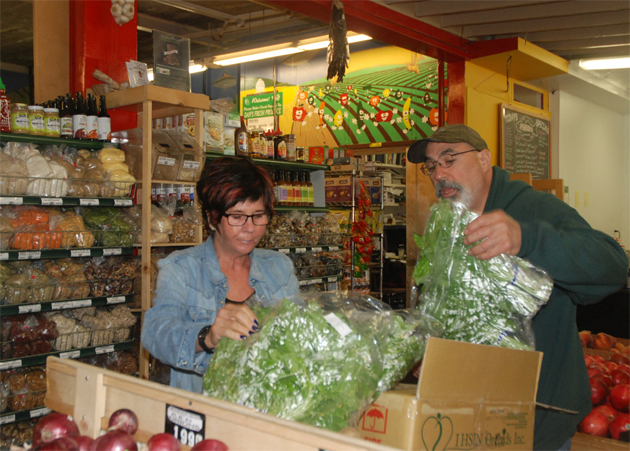 Since pesto ingredients are pricey, there are a few things that you should know when shopping. Farmers markets are a good source for basil, and are definitely cheaper and fresher than the small, expensive pre-packaged basil sold in supermarkets. I pre-order 20 good-sized bunches of basil from my trusted produce man for a $1.50 a bunch. Buy real parmesan cheese from Parma, Italy—not the mass-produced stuff in shakable containers full of fillers. This is definitely one time when you get what you pay for. Pine nuts are divine but very expensive, so shop around for the best price. I find that superstores like Costco sell 1 1/2-pound bags for $25, while upscale markets go for the gold with bulk pricing around $35 per pound. The Costco bag is perfect for my work and I save $27.50.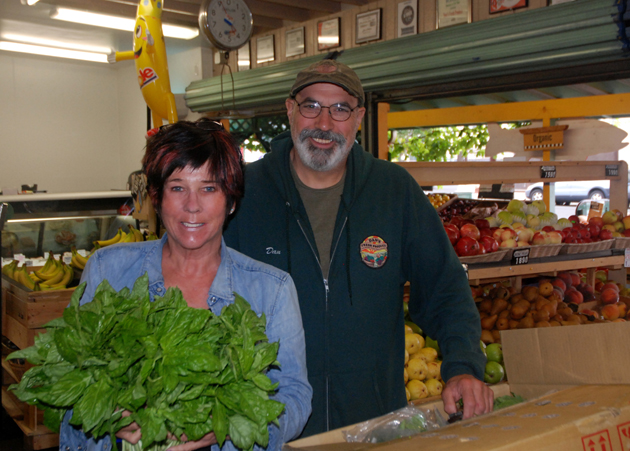 Back in the kitchen, grab your food processor and set up a work station so you can move quickly and efficiently through multiple batches. (Note that each batch yields about one cup of sauce.)
Pour each completed batch into a large, non-reactive bowl as you work. Once completely finished, season the entire bowl at once. Do not add the salt to each individual batch, or the pesto becomes too salty. Same thing with the pepper.
Know that Parmesan cheese is salty so add the seasonings a little at a time. Mix well and taste before adding more.
Storing pesto is easy. If you plan on refrigerating a small batch of  sauce, prevent browning by placing plastic wrap directly onto the surface. And as if this wonder sauce weren't already too good to be true, it also freezes beautifully for a year. That said, think ahead to how you will use the pesto and measure and freeze accordingly. Personally, I love using ice trays with a good tablespoon of sauce in each cube. Quick and easy to thaw, these portions are perfect for drizzling in soup, slathering on a baguette, mixing into rice—you get my point.
Come winter when the rain and snow seem never-ending, a burst of pesto warms my soul and reminds me that summer will come again. Really.
Print a copy of my Pesto recipe for your convenience.