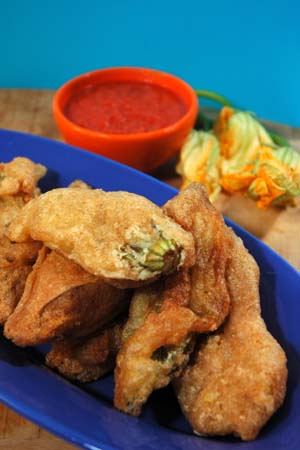 Fried Zucchini Blossoms with Especial Sauce Authentic Mexican Recipe
Though quite elaborate to prepare, these crispy golden delicacies are well worth the effort. They are lovely presented on a platter, garnished with Especial Sauce—if they make it to the table. At my house, they're just as often gobbled up by friends and family standing around in the kitchen.



Serves 12 fried blossoms
Ingredients
| | | |
| --- | --- | --- |
| 12 | | zucchini blossoms |
| 2–4 | cups | vegetable oil for frying* |
| 2 | cups | flour |
| 10 | | egg whites |
| 2 | | egg yolks |
| 1 | recipe | Especial Sauce, pre-made |
NOTE: The frying techniques for zucchini blossoms, and chiles rellenos are identical; check out How To Prepare Chiles Rellenos for step-by-step photos and detailed instructions.
Directions
1. Remove any dirt or debris from the blossoms and trim the stems if required. Set aside.
2. Pour the oil into a deep, heavy-bottomed pan, filling the pan half full, and heat to sizzling. To avoid dangerous spills and splashes, do not overfill the pan.
2. Place the flour on a plate or pie pan and set it aside close at hand.
3. Using an electric mixer, whip the egg whites until they hold stiff peaks.
3. Add the egg yolks to the egg whites and beat for 30 seconds.
4. Dip a blossom into the flour, then into the egg mixture, coating completely. Work in batches, battering and frying only three or four blossoms at a time.
5. Drop three or four blossoms into the hot oil and adjust the heat to medium-high. Turn the blossoms as they brown to promote even cooking. Spoon the hot oil over any lighter portions to create a perfectly even golden brown on all sides.
6. Set blossoms on a baking sheet lined with paper towels to absorb any excess oil.
7. Repeat steps four through six until all of the blossoms are fried.
8. Transfer the blossoms to a serving platter, ladle Especial Sauce over, and serve immediately.
Preparation Time:
60 minutes.