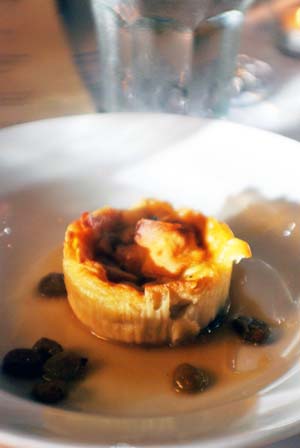 Apple Cake with Raisins and Rum Recipe
Legendary cookbook author Marcella Hazan created this recipe for moist European-style apple cake. It's intended as dessert, but nothing says you can't sneak a slice for breakfast!



Ingredients
| | | |
| --- | --- | --- |
| About 2 | pounds | Red Delicious apples |
| 2 | | lemons, juiced (1/3 cup juice) |
| 1 1/3 | cups | all-purpose flour, plus additional for dusting the baking pan |
| 1 1/2 | teaspoons | baking powder |
| 1 | heaping cup | sugar |
| 9 | tablespoons | butter, melted, plus additional for greasing the pan |
| 3 | large | eggs |
| 1 | tablespoon | dark rum |
| 1 | cup | whole milk |
| 1/8 | teaspoon | fine sea salt |
| 1/2 | cup (2 ounces) | golden raisins, steeped in water for 30 minutes |
Directions
Assemble a 9 1/2–inch springform pan. Preheated the oven to 350 degrees.
Peel the apples, cut them in half, core them, then slice them the very thinnest that you can. Put the slices in a bowl and pour the lemon juice over them, turning them over two or three times.
Put the flour and the baking powder in another bowl and mix well. Add the sugar, melted butter, eggs, rum, milk and salt and mix well.
Drain the raisins, squeeze them dry in a kitchen towel and add them to the batter, stirring until they have been evenly distributed.
Pour the batter into the bowl over the sliced apples, turning them over several times to coat them well. Separate any slices that stick together.
Grease the bottom and sides of the springform pan with butter. Dust with flour, then turn the pan over an rap it against the counter to shake out the excess flour. Pour the cake batter into the pan and level it off with a spatula. Bake in the preheated oven for 1 hour.
Serving Suggestions: You can serve the cake when it is still slightly warm, if you like desserts at that temperature. I prefer this one when it has cooled down completely because it is firmer then.
Ahead-of-time note: When the cake has cooked completely, wrap it in heavy-duty aluminum foil and refrigerate. It will keep perfectly for several days. Serve it slightly chilled or fully restored to room temperature.