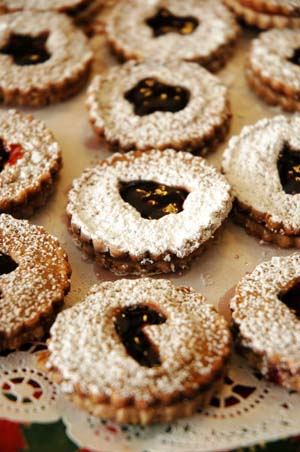 Linzer Cookies Recipe
Elegant, jam-filled Linzer sandwich cookies can be made in any simple shape. They key is cutting a window out of the top cookie to showcase a dollop of bright red jam. You can find Linzer cookie cutter sets in gourmet stores, or create your own using a small circle or diamond cutter to make the peek-a-boo window.



Ingredients
| | | |
| --- | --- | --- |
| 2 1/4 | cups | cake flour |
| 1/2 | teaspoon | baking powder |
| 1 | teaspoon | cocoa (Dutch process is best) |
| 1 1/2 | teaspoons | cinnamon |
| 1/2 | teaspoon | ground cloves |
| 3/4 | cup | butter, room temperature |
| 1/2 | cup | sugar |
| 1 | | egg |
| 2 | teaspoons | grated lemon zest |
| 1 1/2 | cups | ground toasted hazelnuts or hazelnut flour* |
| 3/4 | cup | good quality seedless raspberry preserves** |
| ~ | | powdered sugar, for dusting |
| | | |
*Start with about 2—2 ½ cups blanched whole hazelnuts to end up with 1 ½ cups after toasting and grinding. Both blanched whole hazelnuts and hazelnut flour can be found in fine grocery stores, gourmet shops and online.**If you can't find seedless preserves, press the jam through a strainer to remove the seeds before using.
Directions
In a medium bowl whisk together the flour, baking powder, cocoa, cinnamon and cloves. Set aside.
Cream the butter and sugar until light and fluffy.
Scrape down the sides of the bowl and add the egg, lemon zest and vanilla, beating until incorporated.
Add the ground hazelnuts followed by the flour mixture, blending until combined.
Form the dough into two flat disks, wrap in plastic wrap and freeze until firm, about 1 hour.
While the dough is chilling, preheat the oven to 350 degrees.
Lightly flour a rolling surface and remove one disk from the freezer.
Roll out the dough to 1/8-inch thick. (It's best to roll the dough between two pieces of parchment paper.)
Place the dough (between parchment) in the freezer for 10 minutes to firm up.
Cut out "bottom" cookie shapes. Gather scraps and repeat.
Place the cookies on a baking sheet and again refrigerate for 10 minutes.
Remove from the freezer and bake for 12 minutes or until just golden brown.
Cool on a wire rack.
Repeat with the second disk, cutting "top" shapes. Cut a window in the center of each top to allow the jam to shine through.
One all the cookies are baked and cooled, spread a layer of jam on the cookie bottoms.
Cover with the cookie tops and press down slightly.
Dust with powdered sugar, then spoon a dollop of additional jam into the center windows for a shiny bit of red.
Preparation Time:
about 2 1/2 hours, including one hour of downtime while the dough chills.