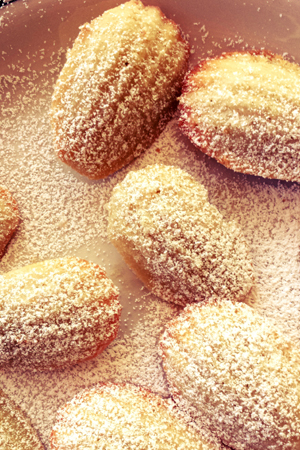 Madeleine Cookies French Recipe
These light, scalloped sponge cakes are baked in a small pan and served as cookies. Their decorative designs come from a specially molded pan, so they're fuss-free for you. Serve freshly baked and dip into coffee or tea.



Serves 24 Madeleine cakes
Ingredients
| | | |
| --- | --- | --- |
|  2–3 |  tablespoons |  melted butter, for greasing tins |
|  ~ | |  flour, for dusting pans |
|  3 |  large |  eggs, room temperature |
|  2/3 |  cup |  sugar |
|  1 |  teaspoon |  clear vanilla extract* |
|  1 |  teaspoon |  freshly grated lemon zest** |
|  1/4 |  teaspoon |  salt |
|  1 |  cup |  flour |
|  1/2 |  teaspoon | baking powder |
| 1/2 |  cup (1 stick) |  butter, melted and still warm |
|  ~ | |  confectioner's sugar, for dusting |
*Find clear vanilla in the baking section of supermarkets, kitchen or baking supply stores or online at sites like Amazon.com.
**NOTE: Flavorings vary with Madeleines. For a citrus flavor, try one teaspoon of lemon or orange zest and one tablespoon of orange flower water instead of the vanilla.
Directions
Place the oven rack in the top third position of the oven.
Have a Madeleine baking pan with 12 shell-shaped tins ready, as well as a pastry brush and wire-mesh strainer.
Prepare Baking Pan
1.    Brush each of the 12 shell molds liberally with the melted butter.
2.    Sprinkle each mold with flour. Give the pans a couple of good whacks to distribute evenly. Shake off excess flour.
3.    Place pan in the refrigerator or freezer to chill.
Prepare Cookies
Preheat oven to 375°F.
Combine the eggs, sugar, clear vanilla, lemon zest and salt in the bowl of an electric mixer fitted with the paddle attachment. Set speed to high and beat until pale and thickened, approximately 5 minutes or as much as 9–10 minutes. (This depends on the eggs used: fresh or the supermarket variety.)NOTE: How thick is thick? Turn the mixer off and run the handle of your spoon through the batter, creating a firm line. With experience, you'll be able to eyeball this.
Remove the bowl from the mixer.
Place the flour and baking powder in a wire-mesh strainer.
Sprinkle half of the dry mixture over the egg mixture and fold in. Repeat the process with the remaining dry mixture.NOTE: Don't be timid here but also avoid overbeating—this will deflate the mixture.
Remove ½ cup of the batter and slowly mix it into the warm melted butter to lower the temperature.NOTE: Do not skip this step. Tempering prevents the heated butter from compromising the eggs.
Pour the tempered butter down the side of the batter bowl and fold it in.
Cover the bowl with plastic wrap and refrigerate a minimum of one hour or overnight. Batter stores well for 2–3 days without losing flavor or consistency.NOTE: Chilling assures that you will have the iconic Madeleine hump after baking. Do not skip this step or you'll have flat cakes.
Remove the prepared Madeleine tin from the refrigerator. Place a tablespoon of batter in the center of each mold (approximately ¾ full).
NOTE: I prefer a small, 1-tablespoon size ice cream scoop for uniformity. You could also use a 1-tablespoon measuring spoon.
Place the baking tin in the oven and bake for 9–11 minutes or until the edges are just golden and the cakes spring back to your touch.
Remove from the oven and turn out on wire racks. Cool for 2–3 minutes.
Dust with powdered sugar and serve.
Preparation Time:
Approximately 60 minutes prep time, plus 1–8 hours refrigeration