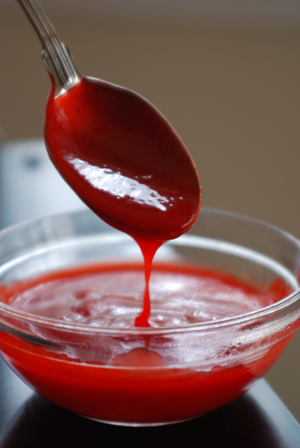 Strawberry Glaze Recipe
Bursting with pure, deep strawberry flavor, this beautiful mixture is the only glaze worthy of peak-season berries – the sticky-sweet store-bought stuff doesn't compare. Red food coloring adds a bit of drama, but if you're a purist, it's certainly not necessary.



Ingredients
| | | |
| --- | --- | --- |
| 2 | cups | strawberries, cut into small pieces |
| 1 | cup | water |
| 1/2 | cup | sugar |
| 3 | tablespoons | cornstarch |
| 1 | tablespoon | freshly squeezed lemon juice |
| ~ | | red food coloring (optional) |
Directions
Combine the strawberries, water and sugar in a bowl and squish with clean hands to gently crush the fruit, releasing its juice.
Cover with plastic wrap and refrigerate for six hours or overnight.
Pass the mixture through a mesh strainer set over a bowl, pressing the berries to release as much juice as possible. Discard the fruit pulp.
Add the cornstarch to the berry juice, whisking until smooth.
Pour the mixture in to a saucepan set over medium-high heat and cook, whisking constantly, until thickened --- approximately 2 minutes.
Note: Adjust the heat as needed while cooking to maintain a gentle simmer and prevent burning.
Remove from the heat and stir in the lemon juice and food coloring.
Cool the glaze until it is just warm before using.
Preparation Time:
About 10 minutes working time, plus 6 hours downtime to macerate the fruit and several minutes to cool the glaze.