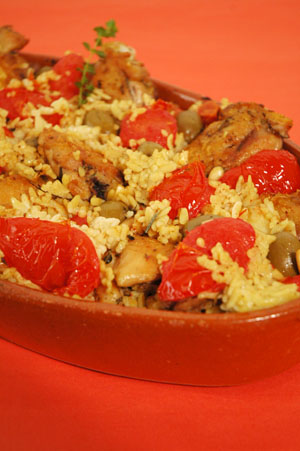 Herb and Olive Oil Marinated Chicken with Orzo Aglio e Olio Recipe
If you've never experimented with brining meat, this recipe is a great place to start. The brining and marinating are easy, but take time—so plan a day or two ahead.  The result is well worth it.



Ingredients
Chicken
2
quarts
cold water
1/4
cup
Kosher salt
8
bone-in chicken thighs, skinned, fat trimmed
1/2
cup
extra virgin olive oil
8
cloves
garlic, bruised with the side of a knife
2
teaspoons
chopped rosemary
1/4
teaspoon
coarsely ground black pepper
1
pound
orzo
Oven Dried Tomatoes
(see below), cut into strips
1
teaspoon
fresh thyme leaves
1-inch
sprigs
thyme and rosemary for garnish
~
picholine olives for garnish*
Oven Dried Tomatoes
6
ripe
red tomatoes
6
cloves
garlic, roughly chopped
6
sprigs
thyme, roughly chopped, stems and all
1/2
cup
good quality olive oil
*If picholine green olives are unavailable, try another green olive. If those are unavailabe, use your favorite black olives. Always remember to remove the pits before including them in the recipe.
Directions
Chicken
In a large bowl, combine the water and salt.
Add the chicken and refrigerate, covered, 2 to 3 hours.
Drain, rinse the chicken, and pat dry. See How To Brine Poultryfor in-depth information on brining.
In a medium bowl, combine the olive oil, garlic, rosemary and pepper.
Place the chicken in a resealable bag and add the olive oil mixture.
Seal, eliminating as much air as possible, and refrigerate overnight.
Remove the chicken from the refrigerator and allow to stand at room temperature for about 30 minutes.
Preheat the oven to 400°F.
Remove the chicken from the marinade. Reserve the marinade (including the rosemary and garlic pieces).
In a large skillet over medium heat, cook the chicken until golden brown, about 2 minutes per side.
Transfer the chicken to a baking dish and bake until cooked through, about 10 minutes.
While the chicken is cooking, add the reserved marinade to the skillet. Cook, over medium-low heat, until the garlic is light golden brown and tender, about 10 minutes.
Meanwhile, cook the orzo in a large pot of boiling, salted water until tender, 8 to 10 minutes. Drain and set aside.
Remove the chicken from the oven and transfer the chicken pieces to a separate dish.
Add the cooked orzo, marinade, dried tomatoes and thyme leaves to the chicken juices in the baking dish, stirring to blend.
Tuck the chicken thighs into the orzo, garnish with rosemary and thyme sprigs and olives, and serve.
Oven Dried Tomatoes
Preheat oven to 200F °
Quarter the tomatoes, then cut out the inner flesh and seeds.
 Blot the remaining tomato "fillets" with paper tomatoes and arrange them on a sheet pan, skin side down.
Sprinkle the garlic and thyme over the tomatoes, then drizzle with the olive oil.
Roast for about 2 hours, or until most of the water has evaporated.