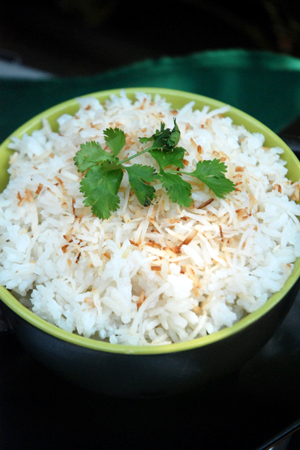 Coconut Rice
Warm, fragrant coconut rice makes a beautiful companion to many dishes. Shredded coconut adds a burst of flavor and crunch for a rice unlike any other.



Serves 4–6
Ingredients
| | | |
| --- | --- | --- |
| 3 | teaspoons | coconut oil* |
| 2 | cups | Jasmine rice or scented white rice** |
| 1 | 13.5-ounce can | unsweetened coconut milk*** |
| 2 1/2 | cups | water |
| 1-1/4 | teaspoon | salt |
| 4 | tablespoons | shredded coconut |
| | | |
| | | |
*Coconut oil is found in good markets, Indian groceries or online. Substitute vegetable oil in a pinch but really try to use the coconut oil.
**Do not substitute other types of rice or the recipe will not work properly.
***I use Chaokoh brand coconut milk because of all I've tried, it give the very best coconut flavor. It's available in large chain supermarkets in the Asian food section
Directions
Have a saucepan ready for cooking rice. It will need a tight-fitting lid.
Set saucepan over medium-high heat and add coconut oil. Bring to a sizzle.
Add rice and sauté for 2–3 minutes or until rice turns opaque. Stir frequently and adjust heat to prevent burning.
Pour coconut milk and water over the rice.
Add salt, mixing well
Stirring frequently, bring liquid to a lively simmer.
Turn heat to low and cover the rice with an airtight lid.NOTE: You can also use a piece of aluminum foil tightly secured around the edges with a lid.
Cook rice for 16–20 minutes, until liquid is absorbed.
Turn off heat and fluff rice.
Replace lid and let sit for 5–10 minutes.
Meanwhile, place shredded coconut in a dry skillet. Shake skillet frequently until the coconut is toasted golden. Adjust heat to prevent burning.
Place rice in a serving bowl or on a platter and sprinkle with toasted coconut.
Serve.
Preparation Time:
Approximately 35 minutes