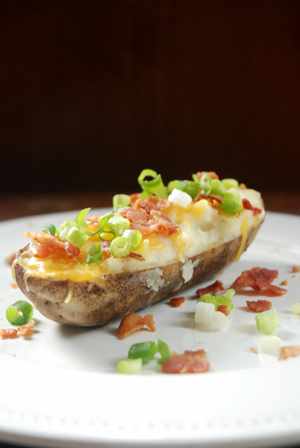 Twice Baked Potatoes Recipe
Twice Baked Potatoes make for a festive side or can be a meal all on their own. Cheddar cheese, bacon and green onions top these off for a colorful, hearty plate.



Serves 8 potato halves
Ingredients
| | | |
| --- | --- | --- |
| 4 |  large |  Idaho potatoes |
| ~1/2 | cup | whole milk |
| 4 | tablespoons | butter |
| ~1 | teaspoon | salt |
| ~1/2 | teaspoon | freshly ground black pepper |
| 2 | cups | grated cheddar cheese |
| ~ | optional | crumbled bacon |
| ~ |  optional | chopped green onions |
| | | |
Directions
Preheat oven to 425°F.
Create steam vents in potatoes by piercing each with a knife.
Place potatoes on the middle rack of oven and roast for 45–60 minutes or until a knife inserted in the center moves easily through.
Remove from oven and let cool for 10 minutes.
Cut the potatoes in half and scoop the flesh into potato ricer.NOTE: Leave a small amount of potato attached to the skins for easy filling.
Mash the potatoes through the ricer into a bowl.NOTE: Do not use a food processor or the potatoes will be gummy.
Heat the milk and butter in a separate pot until hot and melted.

P

our the mixture into the mashed potatoes. Season with salt and pepper, mixing well.

T

aste the potatoes and adjust consistency and seasonings to taste.

NOTE: For fluffier potatoes, use a hand-held electric mixer. Be careful not to over-beat or they will be gummy.

A

rrange potato skins on a baking sheet and fill with mashed potatoes.

T

op with shredded cheese.

P

lace the potatoes on middle rack of oven and bake for 20–25 minutes, until cheese bubbles and potatoes are heated through.

Re

move from oven and top with bacon and green onions if desired.

Serv

e.
Preparation Time:
Approximately 2 hours