Grab your salt shaker and get ready for great eating; the early season heirloom tomatoes are arriving in the markets. These brilliantly colored, lumpy-bumpy jewels of summer deliver old-time tomato flavor that puts supermarket hybrids to shame. Heirlooms are amazing eaten out-of-hand with a sprinkling of salt, or showcased in brilliantly colored summer salads, favorite sandwiches and sumptuous savory tarts.
Unlike hybrid tomatoes, heirlooms are grown from open-pollinated seeds carefully collected and passed through generations of growers and their friends. Plants maintain the same taste, color, size, shape and texture characteristics year after year. Hybrids, by contrast, produce few usable seeds. When planted, these hybrid seeds yield inferior plants the first year, and deteriorate further thereafter.
You'll notice that heirlooms are more expensive than standard supermarket tomatoes and may wonder why. After all, four bucks a pound—and as much as six or more at high-end stores during the season—may seem excessive when one large tomato can weigh a whole pound.
It all centers on profitability. Bred for production and sales, hybrids have thicker skins for best shipping and a longer shelf life. Heirlooms have thinner skins, do not ship well, and must be eaten within several days of harvesting. Their plants produce smaller crops and are prone to diseases like blossom-end rot and early blight. All of this makes heirlooms inherently less profitable, forcing growers to set prices higher to sustain a business. On the positive side, when you find perfectly ripe heirlooms at your local market, they're likely to be fresh and great-tasting; well worth the extra cost over mediocre supermarket tomatoes.
Currently our cooler Bay Area temperatures and frequent cloud cover has delayed the local heirloom crop, forcing dealers to buy from growers in southern California and Mexico. Our early crops are due soon, to be followed by more varieties that will peak in September.
When shopping for ripe, juicy heirlooms, look for ones with lots of give. Buy only what you can eat in a day or two as they spoil more quickly than their mass-market cousins. And never, never, ever store heirlooms in the refrigerator—they won't turn into gremlins after midnight, but will lose significant flavor and texture when stored at temperatures under 50 degrees.
Now for the good part—my favorite heirloom recipes. Happy eating!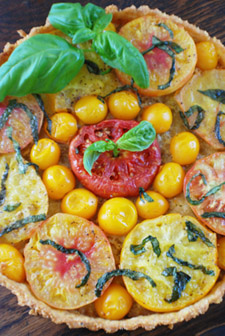 Heirloom Tomato-
Parmesan Tart
Glorious colors and flavor make this savory summertime tart a showstopper at any meal. Let your imagination run wild and use a rainbow of different varieties to turn ordinary into an edible masterpiece.
Tomato-Basil Bruschetta
The simple eating pleasures of summer—garlic, multi-colored chopped heirlooms, fresh basil and a drizzle of balsamic vinegar… all together on a toasted piece of bread headed right to your mouth.
Insalata Caprese
It's hard to improve this Italian classic that combines tomatoes with thick slices of best-quality mozzarella cheese and fresh basil—unless you make it with heirlooms. Oh my, sooo good.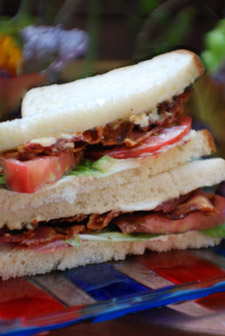 BLT Sandwich
Who needs a recipe for this classic? I slather good bread with mayonnaise and a sprinkling of freshly ground black pepper then stack it with thick-cut bacon, colorful sliced heirlooms, whole basil leaves and lettuce. It's over-the-top delicious.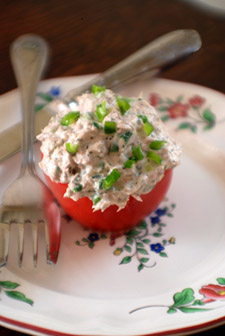 Tuna Stuffed
Heirloom Tomatoes
There are days when only tuna fish salad sounds good. I love to hollow out and stuff heirlooms with my all-time favorite tuna and then dig in.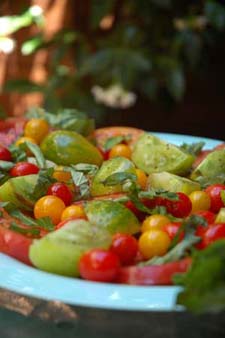 Heirloom Tomato
Salad with Basil
Wow your family and friends with this spectacular summer salad. It's simple yet sophisticated and hard to resist when paired with grilled meats.
Get printable copies of these heirloom tomato recipes for your convenience:
Insalata Caprese

Tuna Stuffed Heirloom Tomatoes