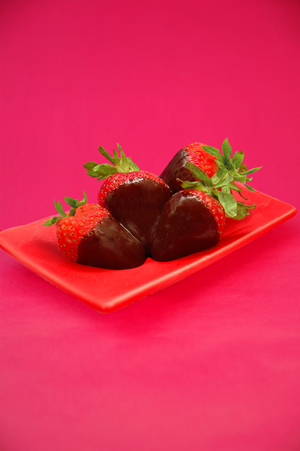 Perfect Chocolate Dipped Strawberries Recipe
There is nothing so good as fine Chocolate on fresh, brilliantly flavored Strawberries!



Ingredients
| | | |
| --- | --- | --- |
| ~12 | ounces | premium semisweet or bittersweet chocolate, melted* |
| ~1 | pint | best-quality strawberries, greens intact |
*Use excellent chocolate such as Scharfen Berger or Valrhona.Note: To achieve perfectly coated berries, you need to melt down plenty of chocolate.  Leftovers won't go to waste: Simply strain the melted chocolate into a bowl lined with plastic wrap, refrigerate to firm, then wrap the plastic around the solid chocolate and store at room temperature. Chocolate "recycled" in this way may discolor over time, but this does not affect its taste or texture when used in recipes.
Directions
Place melted chocolate in a small bowl.
Pick up a strawberry by the greens and dip it in the chocolate, coating the berry about three quarters of the way up.
Lift the berry out of the chocolate and allow any excess to drip away.
Scrape one side of the berry once or twice against the edge of the bowl to remove any remaining excess chocolate.
Place the berry, scraped side down, on the prepared tray.
Repeat with remaining berries.
Allow berries to firm up at room temperature for about an hour, or refrigerate to firm more quickly. Restore to room temperature before serving.
Chocolate dipped strawberries are best served on the same day they are made.
Preparation Time:
Under 90 minutes including the downtime.