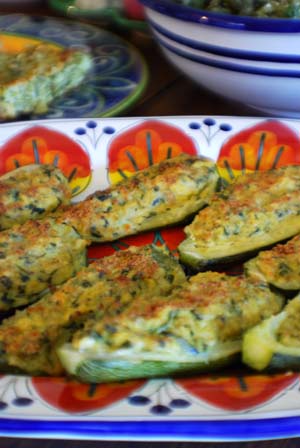 Zucchini Pieni (Stuffed Summer Squash) Italian Recipe
Fresh, mild zucchini is the perfect vehicle for classic Italian seasonings like onion, garlic, parsley and parmesan. These look lovely, taste scrumptious and are easy to prepare ahead then bake at meal time.



Ingredients
| | | |
| --- | --- | --- |
| 6 | | grey zucchini, halved* |
| ~1 | teaspoon | salt, divided |
| 3 | tablespoons | olive oil |
| 1 | medium | yellow onion, chopped |
| 1 | clove | garlic, crushed |
| 1 | bunch | Italian flat leaf parsley, chopped |
| 1/4 | teaspoon | Italian seasoning |
| 3 | | eggs, beaten |
| 1 | cup | grated parmesan cheese, divided |
| 1/2 | cup | bread crumbs |
| | | |
*Found in good produce markets, "grey zucchini" are actually green and approximately six inches long. They are wider than regular supermarket varieties and hold more stuffing. Locate them in good produce markets. If necessary, you can substitute ordinary zucchini.
Directions
Grease a baking sheet with olive oil.
Cut five zucchini in half lengthwise. Scoop out the flesh and set it aside.
Lightly sprinkle the inside of the zucchini shells with salt and place them on the baking sheet.
Chop the remaining zucchini and the reserved flesh into ¼-inch pieces. Gently squeeze out excess moisture.
Heat the olive oil in a skillet set over medium-high heat until it sizzles.
Add the onions, chopped zucchini, garlic, and parsley to the pan and sprinkle in ½ teaspoon of salt and the Italian seasoning. Cook until the vegetables are softened, adjusting the heat as needed to prevent burning.
Remove from the heat and place the mixture in a spacious bowl to cool.
Add the eggs and mix well.
Stir in ½ cup of the parmesan cheese and the bread crumbs.
Preheat the oven to 350 degrees.
Fill each zucchini half with the vegetable mixture and top with the remaining cheese.
Bake for 45–50 minutes, or until the tops are crisp and golden.
Preparation Time:
Approximately 90 minutes, including baking time