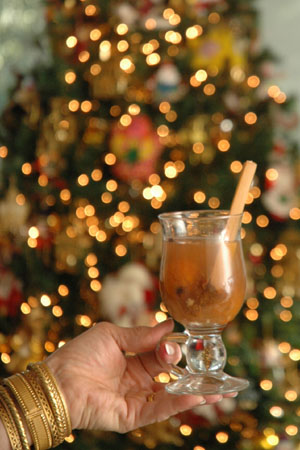 Ponche Mexican Christmas Fruit Punch Drink Recipe
It's well worth it to seek out authentic Mexican ingredients for this traditional hot fruit punch. The flavor experience is like no other! For a grown-up celebration, feel free to add a shot of brandy or rum.



Ingredients
| | | |
| --- | --- | --- |
| 5 | quarts | water |
| 3 | | cinnamon sticks |
| 8–10 | small | guayabas* |
| 1 | pound | whole tejocotes** |
| 1 | cup | dried prunes, pitted |
| 1 | large | apple, cored and sliced |
| 1 | cone | piloncillo*** or 1 ½ cups brown sugar. |
| 2 | cups | sugar cane, cut in to swizzle sticks |
*Guayabas are wildly fragrant guavas available in Mexican markets during the winter months. Substitute canned guayabas if fresh are unavailable. Be sure to thoroughly rinse those processed with honey.** Tejocotes are a species of hawthorn grown in Mexico. They have a sweet and sour taste and range in color from golden yellow to an orange-red. Tejocotes are available both fresh and bottled in Mexican markets.***Piloncillo is pure unrefined brown Mexican sugar that's compressed into cones of various sizes.  Locate piloncillo in Mexican markets. If unavailable, substitute supermarket brown sugar.

****Buy fresh sugar cane at Mexican markets in manageable bundles or trimmed, cut and packaged specifically for ponche.
Directions
Add the water, cinnamon sticks, guyayabas, tejocotes, dried prunes, apple, brown sugar and sugar cane into a large pot.
Cover with the lid set ajar and bring to a boil. Lower the heat to medium-low and cook for approximately two hours.
Ladle the hot punch with bits of fruit in to heat-resistant cups.
Serve with a sugar cane swizzle stick
Note: Ponche keeps well in the refrigerator for several weeks. If your fruit eventually dissolves making a mushy looking concoction, strain it and place the sugar cane back in the mix. Reheat before serving.