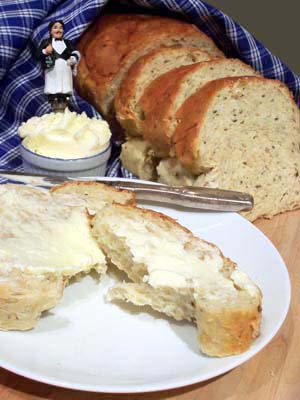 Oatmeal-Dill Bread Recipe
This savory bread makes delicious sandwiches or toast. It's also terrific baked into little dinner rolls. (Just roll the dough in small balls and bake on a greased cookie sheet for about half an hour.)



Ingredients
| | | |
| --- | --- | --- |
| 2 | packages | dry yeast |
| 1/2 | cup | warm water |
| 2 | tablespoons | dried onion flakes |
| 2 | cups | small curd cottage cheese |
| 1/2 | cup | butter room temperature |
| 1/4 | cup | sugar |
| 2 | tablespoons | dill seeds |
| 2 | | eggs |
| 2 | teaspoons | salt |
| 4–4 ½ | cups | all-purpose flour |
| 1 | cup | uncooked oats |
Directions
Preheat oven to 350°
1. Combine the yeast and warm water in a small bowl and set aside for 5 minutes, until the yeast is dissolves and begins to foam slightly.
2. Combine the onions, cottage cheese, 1/3 cup of the butter, sugar, dill, and salt in the bowl of your electric mixer. (If beating by hand, place the ingredients in a large mixing bowl.)
3. Add the yeast, eggs, and 2 cups of the flour. Beat for 2 minutes.
4. Stir in the oats and enough of the remaining flour to make a soft dough.
5. Turn onto a clean, floured, working surface and knead for 8–10 minutes, until smooth and elastic. If your dough is too sticky, add just enough flour to form the soft dough.
6. Form the dough into a ball, place it into a spacious bowl, and cover with a damp cloth.
7. Place the bowl in a warm place for approximately 1 hour or until the dough doubles in size.
8. Punch down the dough, divide in half, and let rest for 10 minutes on a clean working surface.
9. Grease two 9x5-inch loaf pans.
10 Form each ball of dough into a loaf and place in the greased pans.
11. Cover with a damp cloth, place in a warm place, and let rise until double—approximately 45 minutes.
12. Melt the remaining butter and brush the top of each loaf of bread.
13. Bake for 30–35 minutes or until the loaves sound hollow when tapped.
14. Remove from the oven, let rest for 10 minutes, and then remove the bread from their pans, and place on wire racks—Cool completely before slicing.
Preparation Time:
60 minutes plus 2 hours downtime.