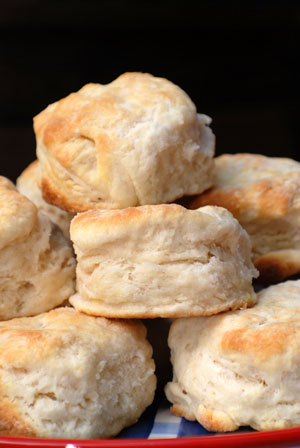 Buttermilk Biscuits Recipe
Whipping up your own biscuits is incredibly satisfying—and very quick once you get the hang of it. My secret is to roll the dough extra thick, which results in huge, fluffy biscuits that cry out for butter and jam. If you don't have a cutter deep enough to handle a full inch of dough, a clean aluminum can or straight-sided juice glass works, too.



Ingredients
| | | |
| --- | --- | --- |
| 4 | cups | all-purpose flour |
| 8 | teaspoons | baking powder |
| 1 | teaspoon | cream of tartar |
| 1 | teaspoon | salt |
| 4 | teaspoons | sugar |
| 1 | cup | shortening* |
| 1 1/3 | cups | cold buttermilk |
 * Use butter or vegetable shortening such as Crisco—Do not use margarine.
Directions
Preheat oven to 450°
1. Sift the flour, baking powder, cream of tartar, salt, and sugar into a medium-sized bowl.
2. Cut the shortening into ½-inch pieces and add them to the flour mixture. Use a pastry cutter to "cut" the shortening into the flour until the mixture resembles coarse crumbs. (Alternatively, you can do this with your hands, working the shortening into the flour with a pinching and tossing motion.)
3. Add the buttermilk and mix gently just until blended.
4. Turn the dough out onto a lightly floured surface and knead it gently two or three times so that it comes together into a cohesive mass. You can add a bit more flour if the mixture is very wet, but avoid overworking the dough.
5. Gently roll or pat the dough to a thickness of one inch. Use a 2 5/8" biscuit cutter to cut rounds
6. Place the biscuits close together on a parchment-lined cookie sheet and brush with milk.
7. Bake for 18–20 minutes or until puffed and golden. Serve hot.
Preparation Time:
10 minutes plus 18–20 minutes baking time.