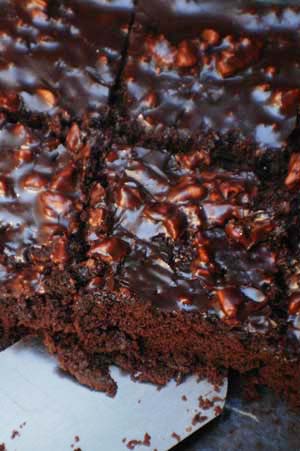 Chocolate Sheet Cake
This traditional country dessert goes by Texas Sheet Cake—even Church Ladies Cake. Whatever you call it, it's a perfect (and perfectly scrumptious) addition to your next barbecue or picnic.



Serves 1 17x12-inch cake.
Ingredients
Cake
2
cups
flour
2
cups
sugar
1
teaspoon
salt
1
cup
unsalted butter
1/2
cup
Dutch processed cocoa
1
cup
strong, hot coffee
 1/2
 cup
 sour cream
 2
 large
 eggs
 1
 teaspoon
 vanilla
 1
 teaspoon
 baking soda
Frosting
 1-3/4
 sticks
 unsalted butter
 6
 tablespoons
 milk
 1/8
 teaspoon
 salt
 1/2
 cup
 Dutch processed cocoa
 4
 cups
 powdered sugar
1
1
teaspoon
cup
vanilla
pecans
You may also use buttermilk or crème fraise in place of sour cream.
Directions
Set out a 17x12-inch baking sheet or jelly roll pan.
Preheat the oven to 350 degrees.
Combine the flour, sugar and salt in a large bowl. Set aside.
Melt the butter in a saucepan set over medium heat. Whisk in the cocoa and coffee and beat until smooth. Bring the mixture to a boil. Turn off the heat.
Pour the mixture over the dry ingredients and stir.
Whisk the sour cream, eggs, vanilla and baking soda together in a bowl. Pour into the batter and mix until just combined. Be careful not to overbeat.
Pour the batter into the pan and spread evenly.
Remove the air bubbles by banging the pan firmly against the counter, then run a knife quickly through the batter to remove any remaining bubbles.
Place on the middle rack of the oven and bake 15–20 minutes, or until a toothpick inserted comes out clean.
While the cake is cooking, prepare the frosting: Melt the butter in a saucepan set over medium heat. Add the milk and cocoa and whisk until smooth while bringing to a boil.
Reduce heat to low and stir in the powdered sugar, vanilla and nuts; keep warm until ready to use.
When the cake is ready, use a toothpick to poke random holes across the surface.
Spread hot frosting evenly across the cake and allow to sit for 30 minutes before serving.
Preparation Time:
less than 60 minutes, plus 30 minutes cooling time.