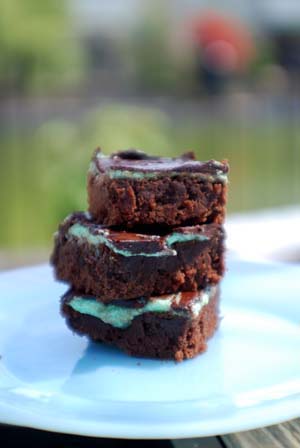 Chocolate Peppermint Bars Cookie Recipe
A layered adventure of flavors and textures, these heavenly bars combine a brownie crust with ultra-sweet minty filling and a surprising topper of unsweetened chocolate. Prepare to become addicted!



Ingredients
Layer 1
3
ounces
unsweetened chocolate
1/2
cup
unsalted butter
2
large
eggs
1
cup
sugar
1/2
cup
unbleached all purpose flour
1/4
teaspoon
salt

Layer

2

1
cup
powdered sugar
3
tablespoons
unsalted butter, room temperature
2
tablespoons
milk
1 1/2
teaspoons
peppermint extract
a few drops
green food coloring (if desired)

Layer 3

2
ounces
unsweetened chocolate
2
tablespoons
unsalted butter
Directions
Preheat the oven to 350 degrees. Butter or spray an 8x8" pan.
Prepare layer one: In a small saucepan melt the chocolate and butter together. Set aside to cool.
In a medium bowl, cream the eggs and sugar. Add the flour, salt and chocolate mixture and stir well.
Spread the mixture in the prepared pan and bake for 25 minutes.
Cool on a metal rack.
Meanwhile, prepare layer two: using an electric mixer, cream together the powdered sugar and butter until light and fluffy.
Beat in milk, peppermint extract and green coloring (if desired).
Spread the mixture evenly on the cooled brownie layer.
Refrigerate until set, about 15 minutes.
For layer three, melt the chocolate and butter together in a small saucepan.
Pour evenly onto the chilled peppermint layer.
Refrigerate until set, about 25 minutes.
Cut into bars and serve.
Preparation Time:
45 minutes. Baking time: 25 minutes. Chilling time: 1 hour..