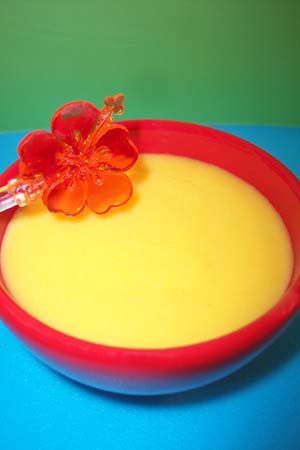 Passion Fruit Curd Recipe
Like its more common cousin lemon curd, passion fruit curd has dozens of uses. Try it as a filling for tarts and layer cakes, spooned over pound cake, or spread on waffles at breakfast.



Ingredients
| | | |
| --- | --- | --- |
| 1 1/2 | cups | sugar |
| 1/2 | cup (1 stick) | butter, room temperature |
| 4 | | eggs, room temperature |
| 2/3 | cup | passion fruit concentrate* |
| 1/8 | teaspoon | salt |
| | | |
You can purchase passion fruit concentrate in Latin American markets, or online at Amazon.com.
Directions
1. Place a mesh strainer and a medium bowl close at hand near your stove.
2. Place the sugar and butter in a food processor and process until smooth.
3. With the processor running, add the eggs one at a time, followed by the passion fruit concentrate and the salt.
4. Pour the mixture into a small saucepan and cook very slowly over a low heat, stirring constantly, until slightly thickened (about 10 minutes). Do not allow the custard to boil. To check the consistency, lift your stirring spoon from the mixture and swipe a finger across its back; if your finger leaves a clear path on the spoon, the curd is ready to come off the heat.
5. Immediately remove the curd from the heat and strain it into a clean bowl.
6. Set aside to cool to room temperature.
7. Refrigerate for 5–7 hours, until well chilled. Curd keeps in the refrigerator for several weeks
Preparation Time:
15 minutes plus 4–6 hours downtime.