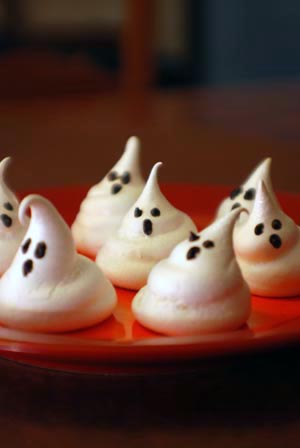 Halloween Meringue Ghosts Recipe
Prepared in dry conditions, meringue is crisp, light and melt-in-your-mouth scrumptious. Exposed to dampness, it becomes sticky and chewy—so hope for good weather at Halloween!



Ingredients
| | | |
| --- | --- | --- |
| 3 | large | egg whites |
| 1/2 | teaspoon | cream of tartar |
| 3/4 | cup | granulated sugar |
| 1/2 | teaspoon | vanilla extract |
| | | |
Directions
Preheat oven to 200°
Line 2 baking sheets with parchment paper or grease and dust with flour.
In a medium bowl, use an electric mixer at high speed to beat the egg whites with cream of tartar until they hold soft peaks. Add the sugar, 1 tablespoon at a time, beating until stiff peaks form. Beat in vanilla.
Place the meringue in a pastry bag fitted with a ½" round tip. Holding bag straight up squeeze meringue onto a small pile on baking sheet. Build up the "body" of the ghost and end with a point on top.
Bake in  the preheated oven until the meringues are firm to touch, about 75 minutes.
Turn off heat and leave the meringues in closed oven for 1 hour. Lift one up and test the bottom center to see if they have dried out. If not, leave in oven for an additional 20–30 minutes.
To decorate:  Make "eyes" and "mouth" with dots of black buttercream. Alternatively, poke miniature chocolate chips into the ghosts to create facial features.
Ghosts can be made up to 1 week ahead in a dry climate. Store, tightly covered, at room temperature.
Preparation Time:
Adams Beyond Wonderful recipe
by Baking Expert, Catherine Christensen .