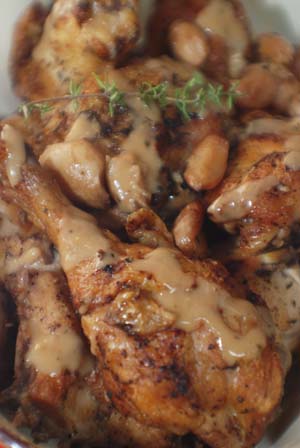 Chicken with 40 Cloves of Garlic Recipe
With so much heavenly garlic, this chicken doesn't need much else; just a sprinkle of salt and pepper, applied a day in advance to more deeply flavor the meat.



Ingredients
| | | |
| --- | --- | --- |
| 1 | 5-pound | chicken, cut into 8–10 pieces |
| ~ | | kosher salt |
| ~ | | freshly ground black pepper |
| ~4 | tablespoons | olive oil, divided |
| ~2 | tablespoons | butter |
| 40 | cloves | garlic, peeled |
| 1 | cup | dry white wine, divided |
| 1 | 14-ounce can | low sodium chicken broth* |
| 10 | sprigs | fresh thyme |
| 2 | tablespoons | flour |
| ~ | | chopped Italian parsley and sprigs of fresh thyme, for garnish (optional) |
| | | |
* I prefer homemade chicken broth because it has better flavor and I control the salt.
Directions
Preheat the oven to 350 degrees.
Set a fine mesh strainer over small a heat-resistant bowl
Pat the chicken dry with paper towels.
Season the chicken, over and under the skins, with the salt and pepper. Set in the refrigerator for 24 hours.
Rub 2 tablespoons of olive oil over the chicken pieces.
Set a Dutch oven on top of the stove over medium-high heat. Add the remaining 2 tablespoons of oil and 2 tablespoons of butter and heat to sizzling.
Working in batches, brown the chicken pieces until rich golden on both sides. Adjust the heat as needed to prevent burning. Add more oil and butter as required. Set the chicken aside.
Lightly brown the 40 cloves of garlic. Remove and set aside.
Pour off all but several tablespoons of the fat from the cooking pot.
Add ½ cup of wine and stir vigorously, scraping all of the meat bits into the liquid.
Add 1 tablespoon of butter and allow to melt.
Whisk in 2 tablespoons of flour and cook, stirring, until the nutty scent dissipates.
Slowly whisk in the remaining wine and the broth, forming smooth gravy. Bring to a lively simmer and cook until slightly thickened.
Season lightly with salt and pepper. (If using canned chicken broth, taste before adding the seasonings to avoid over-salting.)
Strain the gravy through a fine strainer and set aside.
Arrange the chicken skin-side-up in the Dutch oven. Tuck the 40 cloves of garlic and thyme between the chicken pieces.
Pour the gravy around and over the chicken.
Cover with a tight-fitting lid and bake for approximately 1 ½ hours, or until the chicken is tender.
Decorate each serving with chopped Italian parsley and fresh thyme sprigs if you wish.