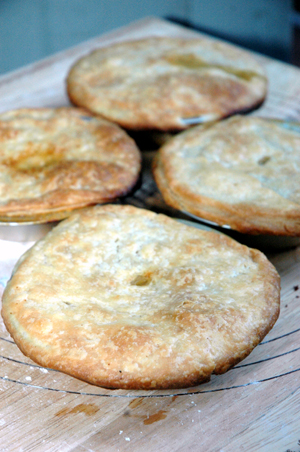 Rotisserie Chicken Pot Pie Recipe
Pot pies are an easy way to use up leftover rotisserie chicken, and the flavor is superb. For added convenience, these can be made ahead and frozen unbaked. Just allow them to thaw and reach room temperature before finishing them off in the oven.
Heaven!



Ingredients
| | | |
| --- | --- | --- |
| 6 | tablespoons | butter, divided |
| 2 | medium | russet potatoes, diced |
| 2 | | carrots, diced |
| 1 | rib | celery, diced |
| 1 | tablespoon | chopped Italian parsley |
| 1 | teaspoon | salt |
| 1/2 | teaspoon | freshly ground black pepper |
| 2 | cups | chicken broth* |
| 2 | cups | diced rotisserie chicken meat |
| 1/2 | cup | thawed frozen peas |
| 2 | tablespoons | flour |
| 1 | cup | half-and-half |
| 2 | store-bought | pie crusts, thawed |
| | | |
 *Use sodium-free homemade chicken broth if possible. If unavailable, use low-sodium canned broth and taste the filling before adding any salt.
Directions
Pre-heat oven to 400-degrees.
Melt 4 tablespoons of butter in a large skillet set over medium heat.
Add the potatoes, carrots, celery, and parsley. Sprinkle with the salt and pepper. Sauté for 10–12 minutes.
Stir in the chicken broth and mix well. Add the chicken and bring to a lively simmer.
Reduce the heat to a medium-low, cover with a lid and cook until the vegetables are just tender—approximately 10 minutes.
Stir in the peas, remove from the heat and set aside.
Melt the remaining butter in a large, heavy-bottomed saucepan over medium low heat.
Sprinkle the flour over the butter to form a roux.  Cook the roux, whisking, for one minute or until the flour scent dissipates.
Add the half-and-half to the roux in a thin, steady stream, whisking constantly to prevent lumps.
Stir the mixture into the chicken. Mix well and adjust the seasonings if needed.
Select 2 9-inch pie pans or 8 individual 5-inch pie tins or ovenproof bowls.
If making the larger pies, use the pre-packaged dough as cut. Otherwise cut four 6-inch circles from each pie crust. You will have to piece scraps together and roll them flat in order to get eight circles.
Fill the pie tins with the chicken mixture and top with the pastry circles. Crimp and seal the dough down around the edges of the tins.
Cut 3 small steam vents into the top of each pot pie.
Place the pot pies on a baking sheet and bake until the pastry turns golden brown—20 to 25 minutes.
Cool for 10 minutes before serving.