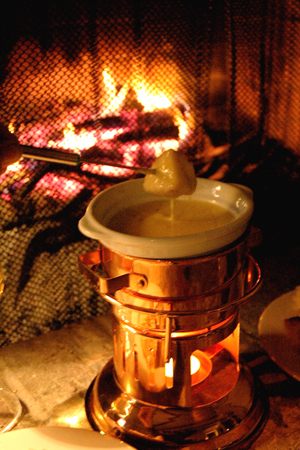 Alpine Cheese Fondue Pairing Recipe
Beyond Wonderful's cheese expert Mark Todd created this easy and versatile recipe for classic fondue. Feel free to experiment with cheeses, wines and liqueurs other than those listed here. Just make sure to avoid anything highly floral or intensely sweet.



Ingredients
2
cups
(8 ounces)
Allgäuer Bergkäse, shredded*
2
cups
(8 ounces)
Appenzeller, shredded
1
tablespoon
cornstarch
1/2
teaspoon
Coleman's dry mustard
1/8
teaspoon
freshly ground white pepper
1
clove
garlic, split
2
cup
dry to off-dry white wine (such as premium German Spätlese) **
3
tablespoons
Kirshwasser or other liqueur
1/8
teaspoon
freshly ground nutmeg
1/2
teaspoon
Hungarian hot paprika
~
cubed crusty bread for dipping
~
bite-sized vegetables and fruit for dipping
*The classic ratio for fondue is one pound of cheese to two cups of wine. This produces a wine-rich, liquidy cheese sauce ithat soaks into the bread. If you want a thicker consistency, add a bit more cornstarch..You may reduce the amount of wine by 1/2 cup without compromising the acid balance between the wine and cheese. If the cheese breaks, add a small amount of lemon juice (one teaspoon to one tablespoon).
Directions
Place the shredded cheese in a medium bowl and toss with the cornstarch, mustard, and pepper.
Set a double boiler over medium-high heat and bring the water to a lively simmer.
Rub the heated pot liberally with the garlic clove and discard.
Pour the wine into the pot and heat until barely simmering – do not boil.
Stir in the Kirshwasser.
Add the cheese by handfuls, stirring constantly in one direction until well integrated. Adjust the heat as required to maintain a temperature just hot enough to melt the cheese. Never boil the fondue.
Once you achieve a smooth emulsion of melted cheese and wine, add the nutmeg and paprika.
Pour the mixture into a fondue pot with a heat source, or carefully wrap the double boiler with a kitchen towel and serve. The water below the pot will keep the fondue hot.
Preparation Time:
Approximately 15 minutes.