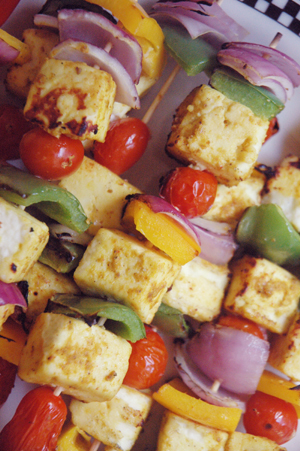 Paneer TikkaIndian Recipe
You won't miss meat at all with this traditional Indian dish. Loaded with spices and fresh paneer cheese, it will make a believer out of anyone. Serve with basmati rice and mint chutney for an authentic experience.



Serves 4
Ingredients
 

Marinade

1/2
 cup
 thick, Greek-style yogurt
 1
 tablespoon
 fresh ginger, finely grated
 1
 tablespoon
 crushed garlic
 1
 small
 onion, minced
 1
 green chili, minced
 1 1/2
 tablespoons
 ground coriander
 1
 tablespoon
 ground cumin
 1/2
 teaspoon
ground turmeric
 1/2
 teaspoon
 cayenne pepper
 1/2
  teaspoon
 mild Kashmiri chilli powder for color, optional*
 1
 teaspoon
 salt
 1
 teaspoon
 freshly ground black pepper
 3/4
  teaspoon
 garam masala

Paneer Tikka

 1
14-ounce package
 paneer, cut into 1-inch squares** and ***
 1
 large
orange bell pepper, cut into 1-inch squares***
 1
  large
 green bell pepper, cut into 1-inch squares***
 2
 tablespoons
 vegetable oil
 ~
 chaat masala, for sprinkling****
 ~
 quartered limes, for spritzing
*Kashmiri red chilli is very mild, smoky and adds a nice color to the dish. Find it in Indian groceries or online.
**Paneer is a soft Indian cheese available in Indian groceries and some super stores.
***Feel free to cut the paneer and vegetables up to 2-inches. Grilling time will be longer.
****Chaat masala is a sweet and sour Indian spice mixture that contains amchoor (dried mango powder). Used in popular street foods, it's also added to many Indian and Pakistani drinks and dishes. Find it at Indian groceries or online.
Directions
Paneer 
Using a toothpick or bamboo skewer, poke holes in the block of cheese about every half inch.
Cut the paneer in half horizontally then into 1-inch strips. Cut strips into approximately 1-inch pieces. Set aside.

 
Marinade 
Combine all of the ingredients together in blender. Process until smooth. Pour the marinade into a spacious bowl.
Add the paneer pieces, coating thoroughly with spices. Cover the bowl with plastic wrap and marinate for 24 hours.
Remove from the refrigerator and bring to room temperature.

 
Grilling 
Have wooden skewers ready for step 3.
Soak skewers in water for 30 minutes before grilling to prevent them from burning.
Alternately thread the vegetables and paneer pieces on the skewers, leaving a bit of space between pieces for even cooking on all sides.
Brush lightly with vegetable oil.
Grill the paneer over indirect heat (on medium gas flame or hot coals) until they reach a pale golden brown, about 5–8 minutes. Turn the skewers several times a minute to promote even cooking. Avoid charring the cheese.
Remove skewers from the heat and sprinkle with chaat masala.
Place the paneer tikka and limes on a platter and serve.
Preparation Time:
Approximately 45 minutes, plus 24 hours marinating.