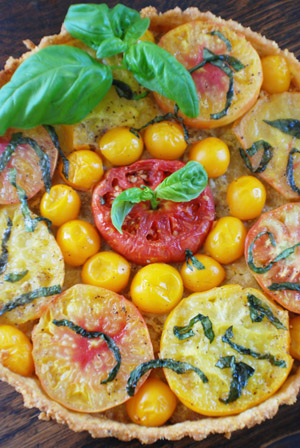 Tomato-Parmesan Tart Recipe
This scrumptious summer tart is especially beautiful when made with heirloom tomatoes in a rainbow of colors. Don't get too hung up on measuring the cheese, tomatoes and basil; this is one of those wonderful recipes that's nearly impossible to ruin. A drizzle of good-quality balsamic vinegar is the perfect accompaniment.



Ingredients
| | | |
| --- | --- | --- |
| Crust | | |
| 1/2 | cup | flour |
| 1/2 | cup | cornmeal |
| 1/2 | cup | freshly grated parmesan cheese* |
| 1/2 | teaspoon | salt |
| 1/4 | teaspoon | freshly ground black pepper |
| 1/2 | cup | cold butter, cubed |
| 2–4 | tablespoons | ice water |
| | | |
| Filling | | |
| 1 | cup | freshly grated parmesan cheese |
| ~ | | heirloom tomatoes, sliced ¼-inch think |
| ~ | | salt |
| ~ | | extra virgin olive oil |
| ~ | | freshly ground black pepper |
| 4–5 | | fresh basil leaves, julienne cut |
| | | |
| | | |
*Avoid pre-grated supermarket parmesan; it does not compare to fresh Parmesan-Reggiano, available in good grocery and cheese stores.
Directions
Have ready a 9-inch tart pan with removable bottom, baking beads, uncooked rice or dried beans and parchment paper for blind baking the crust.Combine the flour, cornmeal, parmesan cheese, salt and pepper in a bowl and whisk to blend.
Cut in the butter using a pastry blender or fork. Work quickly, mixing only until the flour forms small, kernel-sized pieces.
Add 2 tablespoon of ice water and mix gently. Form a soft dough by adding the next tablespoon or two of ice water, mixing only until the dough holds together. Do not overwork the dough, or it will become tough.
Wrap the dough in plastic and let rest in the refrigerator for 1 hour, or up to 24 hours.
Roll the chilled dough between two pieces of plastic wrap, then gently ease it into the tart pan, trimming any excess from the edge. Place the shaped crust in the refrigerator for 30 minutes—the pastry cooks up flakier when it hits the oven well chilled or frozen.
While the crust chills, preheat the oven to 350 degrees.
Line the chilled tart with a piece of parchment paper and weights and blind bake for 20 minutes.
Prepare the filling: Line a baking sheet or clean surface with paper towels. Place the tomatoes on the paper towels and sprinkle with salt. Flip each tomato slice over and sprinkle again. Cover with paper towels and let sit for about 20 minutes, allowing the excess moisture to drain out of the tomatoes..
.
When the crust is finished blind baking, carefully remove the paper and weights and immediately sprinkle the parmesan cheese over the warm pastry.
Arrange the tomatoes in an attractive design over the top.
Using clean hands, smear the tomatoes with a bit of extra virgin olive oil.
Sprinkle with black pepper and the julienned basil.
Return the tart to the oven and bake until the tomatoes soften and the crust is golden—20–25 minutes.
Serve warm or at room temperature.
Preparation Time:
Preparation time: approximately 25 minutes, plus 1 hour downtime and 45 minutes baking time.