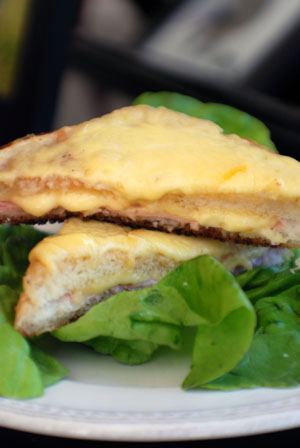 Croque-Monsieur Sandwich French Recipe
To mimic the authentic French classic, use good quality bread, cheese and ham—and don't be shy about the butter. Some cooks like to amp up the richness even more by laying a thin slice of cheese on top of the completed sandwich, then placing the whole thing under the broiler for a minute or two. Heaven!



Ingredients
| | | |
| --- | --- | --- |
| 4 | slices | good sandwich bread |
| 4 | slices | gruyere or gouda cheese |
| 2 | slices | thinly sliced ham |
| ~4 | tablespoons | room temperature butter, divided |
Directions
Sandwich two slices of cheese and a a slice of ham between two slices of bread. Repeat to make the second sandwich.
Butter both sides of the sandwiches.
Melt several tablespoons of butter in a skillet set over medium heat. When hot, add the croque monsieurs and grill until the bread turns golden brown.
Flip and grill the other side until the cheese melts and the sandwiches are heated through.
Serve immediately.
Preparation Time:
Under 10 minutes.