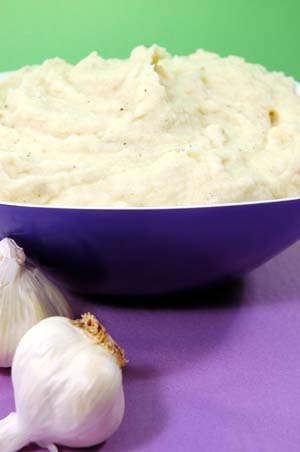 Garlic Mashed Potatoes Recipe
Positively dripping with butter and cream, these luscious spuds are the ultimate carb comfort food. Team them up with a juicy steak… and plan an extra workout the following day!



Ingredients
| | | |
| --- | --- | --- |
| 4 | pounds | potatoes |
| 2 | cups | heavy cream |
| ½–1 | cup | milk |
| 1 | cup | butter |
| 8 | cloves | garlic, crushed |
| 2 | teaspoons | salt |
| 1/2+ | teaspoon | freshly ground black pepper. |
Directions
1. Cut the potatoes in quarters, leaving their jackets on.
2. Put the potatoes in a large saucepan and cover with water. Bring to a boil and cook until the potatoes are soft.
3. Drain the potatoes in a colander, cool slightly, and remove the skins with a paring knife.
4. Mash the potatoes with a ricer over the saucepan and turn the heat to low while you work. This creates a starchier mash that is more ready to receive all that good butter and cream, and less likely to become gluey. (Do not mash them in the food processor or they will be gluey.)
5. In a separate pan, heat the cream, milk, butter, and garlic until the liquid is hot to the touch and the butter is melted. Pour the hot cream mixture over the potatoes and mix thoroughly.
7. Re-heat the potatoes over a medium flame, stirring often.
8. Season with the salt and pepper according to your taste.
9 Check the consistency of your potatoes and add more cream if needed. They should have a soft, creamy texture.
9. Serve immediately.
Preparation Time:
30 minutes.