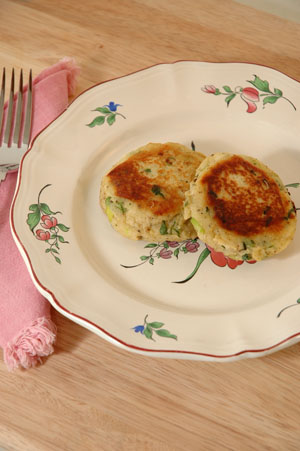 Potato Cakes Recipe
Crispy, lightly fried potato cakes are scrumptious on their own, and truly irresistible when topped with your favorite relish or chutney. If you've got leftover potatoes on hand, you're already halfway there!



Ingredients
| | | |
| --- | --- | --- |
| 2 | pounds | potatoes, cooked and mashed* |
| 2 | | eggs, beaten |
| 1/3 | cup | flour |
| 3 | | scallions, white and green parts, chopped |
| 1 1/2 | teaspoon | freshly ground black pepper |
| ~ | | oil for frying |
| | | |
*Use Idaho or Yukon Gold potatoes for best results.NOTE: Do not mash the potatoes in your food processor or they will become gummy. A potato ricer works well for this job.
Directions
Combine the mashed potatoes, eggs, scallions, salt, and pepper in a spacious bowl and mix well. Taste and adjust the seasonings.
Form the mixture into cakes 3 inches in diameter by one half inch high
.
Heat 2 tablespoons of oil in a heavy, flat-bottomed pan over a high flame until almost smoking.
Place 3 or 4 cakes in the pan and lower the heat to medium high. Allow the cakes to sear and form a golden brown crust. Flip the cakes over and brown the other sideNOTE: Do not use too much oil for frying or the cakes absorb it and lose their texture.
Remove the potato cakes and place them on a warm platter lined with paper towels. Blot any excess oil.
Continue to fry the cakes in batches, adding more oil as needed.
Hold the finished cakes in a warm oven until you have fried the entire batch, then serve immediately with your favorite sauce or chutneys.
Preparation Time:
20 minutes with previously mashed potatoes.