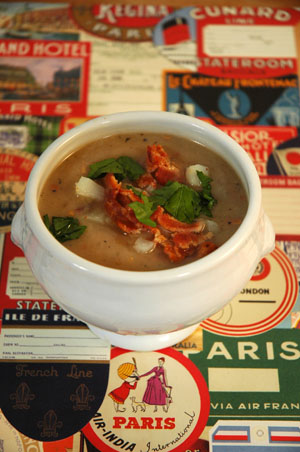 Potato-Onion Soup Recipe
This hearty soup is positively irresistible on a cold winter day—especially with a generous crumble of extra bacon on top. If you've got leftover potatoes on hand, you can throw this together easily with ingredients you probably already have around the house



Ingredients
| | | |
| --- | --- | --- |
| 8 | slices | bacon |
| 3 | cups | onions, minced |
| 1 | teaspoon | crushed garlic |
| 1 | tablespoon | balsamic vinegar |
| 4 | cups | cooked white potatoes* |
| 4 | cups | chicken stock |
| 4 | cups | potato water |
| 1 | teaspoon | salt |
| 1/2 | teaspoon | freshly ground black pepper |
| ~ | chopped | Italian parsley for decoration |
*Reserve the water that you cook the potatoes in for this soup. If you did not save it, add the equivelent liquid in stock or plain water.
Directions
Fry the bacon, pat off the excess grease, allow to cool, then crumble; set aside.
Discard all but two tablespoons of the bacon grease and return the pan to stove over medium-high heat. When the fat begins to sizzle, add the onions.
Lower the heat to medium-low and sauté the onions until they become golden brown—approximately 3 to 5 minutes.
Add the garlic and cook for one minute.
Pour the balsamic vinegar over the onions and garlic and continue cooking for one minute.
Combine the cooked potatoes and the onions and pass them through a food mill to form a smooth paste. (Alternatively, place them in large bowl and use a potato masher.) NOTE: Do not mash the potatoes in a food processor; it makes them gummy.
Place the potato-onion mixture in a large saucepan and stir in the stock and potato water.
Add the salt, pepper, and five strips of crumbled bacon. Mix well and continue cooking for 20 minutes.
Taste and adjust the seasonings.
Ladle the soup into bowls and top with the Italian parsley and remaining bacon.
Preparation Time:
A Barbara Adams Beyond Wonderful recipe.