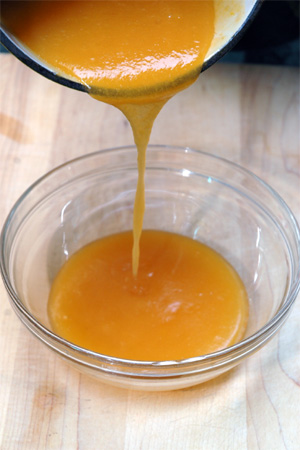 Fresh Peach Pie Glaze
Luscious, peak-season peaches make this simple glaze perfection.



Serves approximately 2 cups
Ingredients
3
large
ripe peaches, cut into small pieces*
1
cup
water
1/2
cup
sugar
3
tablespoons
cornstarch
1
tablespoon
freshly squeezed lemon juice
~
yellow food coloring (optional)
Hard, unripe peaches do not work in this recipe. They are flavorless and impossible to squish for the glaze.
Directions
Combine the peaches, water and sugar in a bowl and squish with clean hands to gently crush the fruit, releasing its juice.
Cover with plastic wrap and refrigerate for six hours or overnight.
Pass the mixture through a mesh strainer set over a bowl, pressing the peaches to release as much juice as possible. Discard the fruit pulp.
Add the cornstarch to the peach juice, whisking until smooth.
Pour the mixture in to a saucepan set over medium-high heat and cook, whisking constantly, until thickened --- approximately 1-2 minutes.Note: Adjust the heat as needed while cooking to maintain a gentle simmer and prevent burning.
Cool the glaze to warm and proceed with the Fresh Peach Pie recipe.