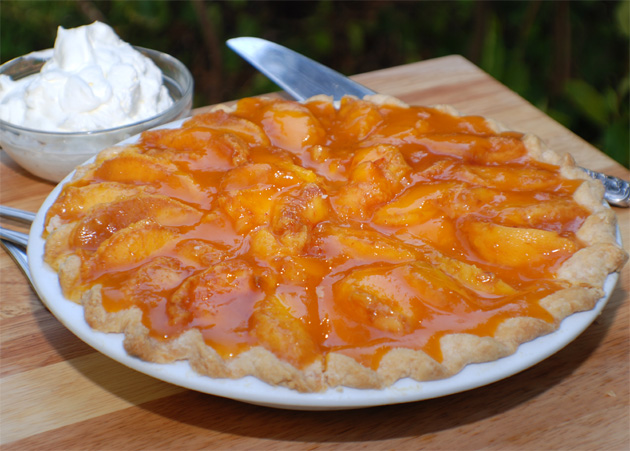 Trips to the farmers market always yield a treasure or two that aren't on my shopping list. So when a vendor approached with a large sample platter of sliced, golden peaches I couldn't resist. They were perfectly ripe, packed with flavor and dripping juice. Pie! They would make an amazing fresh peach pie.
I savored a second sample and started creating the recipe in my head. This pie would be stacked high with glazed, sliced peaches in a basic pre-baked crust. Fruit this good is best showcased with a simple glaze made from peaches, sugar and water and thickened with cornstarch. No need for a lot of spice here—let the pure peach flavor shine. And the topping—clouds of whipped sweet cream generously spooned on each slice. Perfection!
Making my way through the crowds to the peach stand, I was disappointed to see that not all of the fruit was as ripe as the samples. Maybe this pie wasn't going to happen anytime soon. Since I was going to need 10 to 12 medium-large peaches for both the glaze and filling, I asked the salesperson for help. She set about selecting the best fruit for today's project. "We've sold a lot of peaches today and had to put out a new batch—some are less ripe." After checking her reserves, she found what I needed and rang them up. I thanked her and headed home to start the pie.
Back in the kitchen, the peaches needed skinning. Rather than using a knife or peeler—which seems to waste a lot of fruit—I rely on this easy blanching method: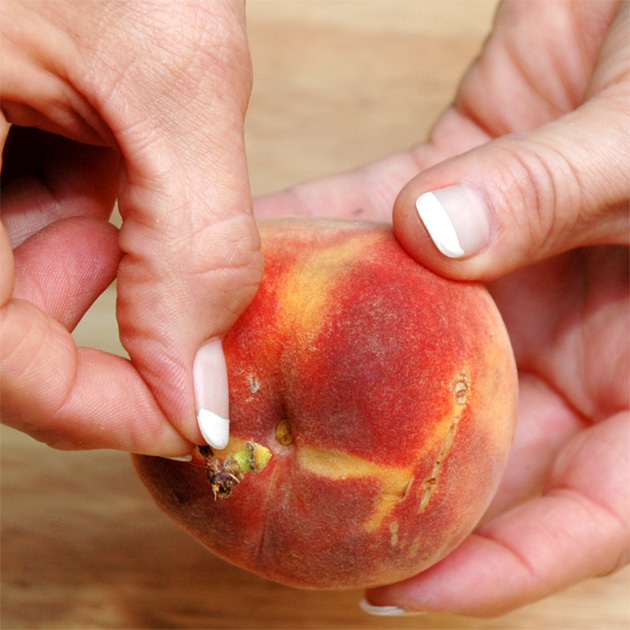 1. Remove the peach stem with your fingers.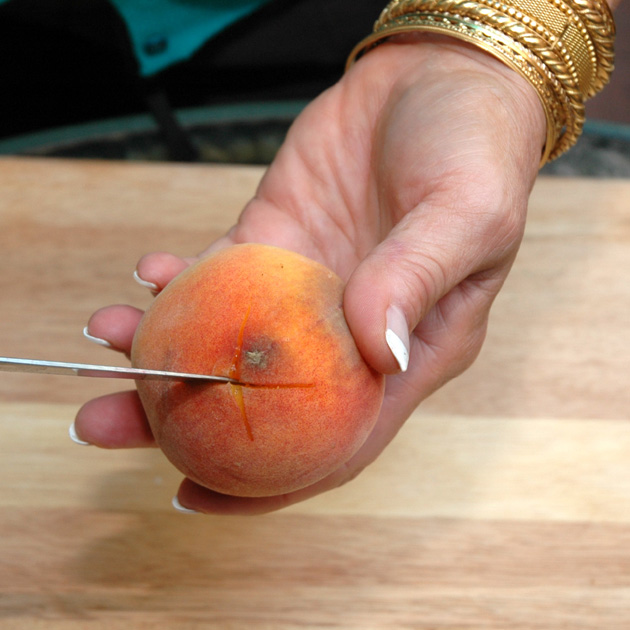 2. Cut an "X" into the bottom of the fruit.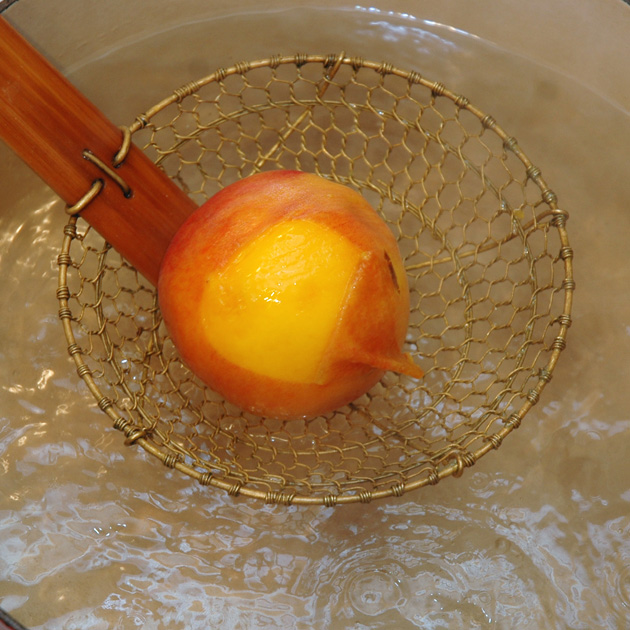 3. Submerge the peach in a pan of boiling water for 10 to 30 seconds. They are ready when the skin around the "X" begins to curl. A ripe fruit peels more quickly than an under-ripe one.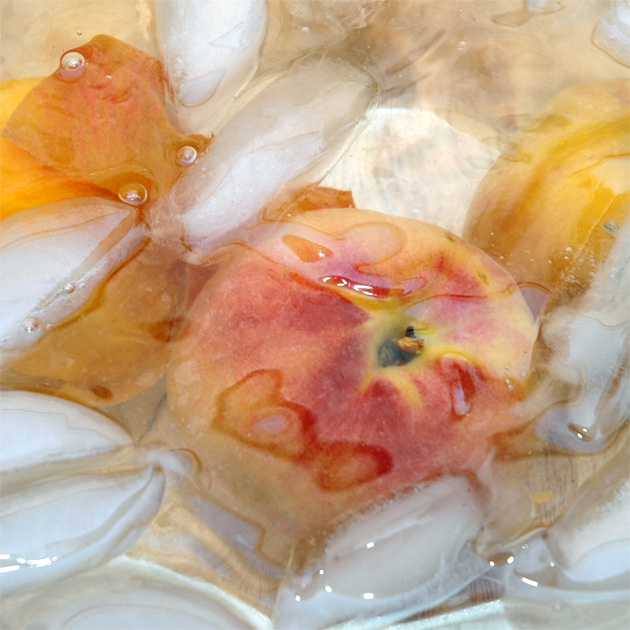 4. Remove the peach with a slotted spoon and place it in a bowl of ice water to stop the cooking and loosen the skin.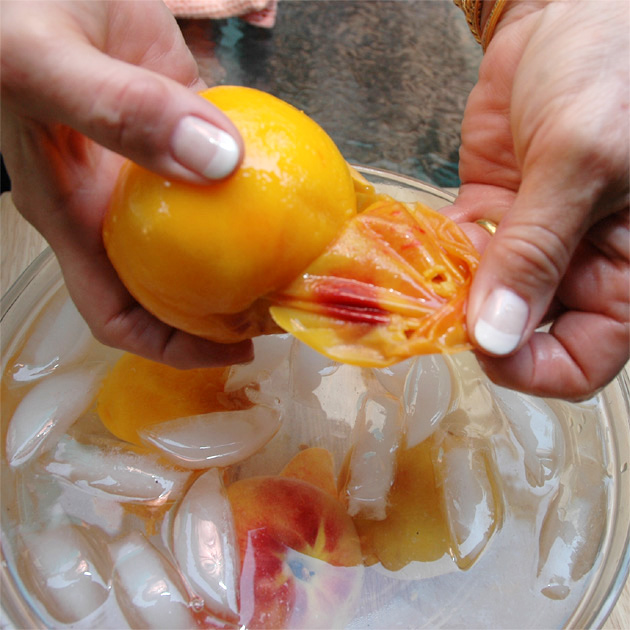 5. Slip the skin off with your fingers or a paring knife.
Peeling and slicing the peaches for this luscious pie is a quick process. And it's especially satisfying to breathe in their intoxicating scent that soon permeates the kitchen as you work.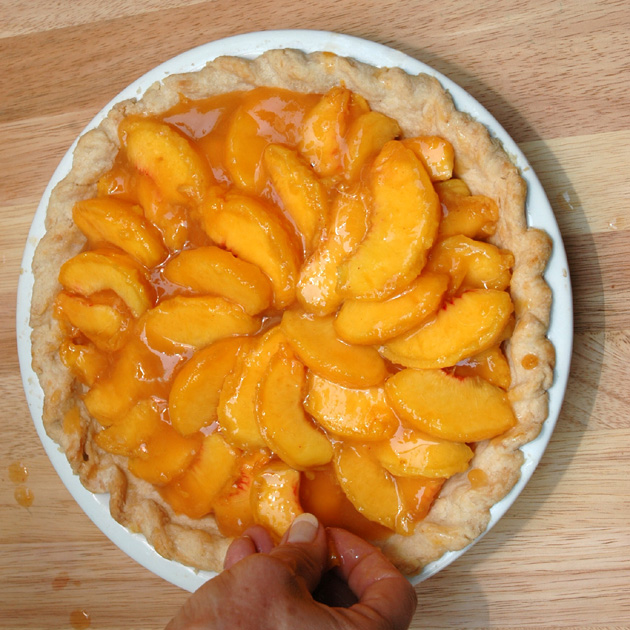 Assembling the pie is a breeze. Have your peach glaze and pre-baked crust ready and then build the pie in layers. I like arranging the peach slices in a pretty circular design, and then slathering it was a generous coating of the glaze before starting the next layer. My biggest problem is not eating the peaches while I work. It's utterly hopeless—all those juicy bits and pieces of fruit just waiting to be plucked from the bowl. Who can resist?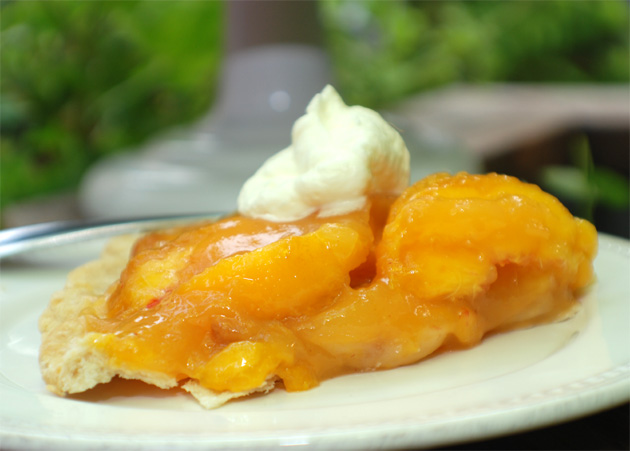 Once the pie is finished and chilled through, I top each slice with a dollop of freshly whipped cream. Here have a piece. Close your eyes and savor the moment: this is the essence of great summer eating.
Print a copy of my Fresh Peach Pie recipe and illustrated, step-by-step How to Peel Peaches for  your convenience.