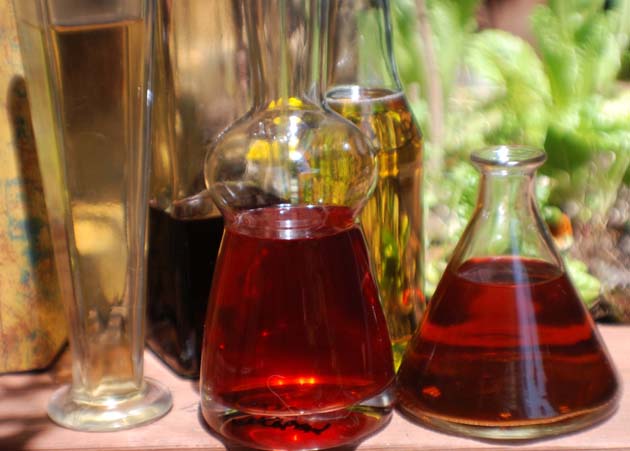 Growing up, bottled salad dressings were the norm at my parent's house. Italian and Thousand Island mainly, sometimes French. Who knew how long they'd been in the refrigerator because they always tasted the same with their flavor enhancers, stabilizers and additives. I just poured, swished and consumed. Then as a novice cook learning the five mother sauces, I discovered vinaigrettes. Oh my, salads were never the same again.
Vinaigrette's  in their simplest form use highest-quality oils and vinegars or freshly squeezed citrus juice with a little salt and pepper before whisked into an emulsion.  More complex versions may include a variety of fresh herbs, garlic, shallots, onions or mustard.
There is no definitive vinaigrette recipe. Classically, one begins with four parts oil and one part vinegar, or a more tart mixture of three parts oil and one part vinegar.
When conjuring vinaigrette, think of yourself as a chemist selecting the perfect components, measuring, whisking, tasting, adjusting—ultimately balancing the flavors and seasonings so that your palate sings. First, what greens are you using? A mild Boston or Bibb lettuce calls for a light dressing while crisp Romaine, red lettuce and stronger greens require a more robust sauce.
A first cold-press extra-virgin olive oil is one your best all-around choices because it blends well with many different vinegars. Hazelnut and walnut oils lend a deep, nutty richness to salads with pears and apples. Flavored oils like lemon and blood orange provide a subtle zing, while flavorless vegetable oils add structure.
Vinegars come in a huge variety of flavors and strengths and can make or break your vinaigrette. Experiment with red wine, Champagne, sherry and apple cider vinegars as well as the fruity varieties like raspberry. Remember one cardinal rule: never buy cheap acidic vinegars, as you will get exactly what you pay for— the puckers.
I love salads every day, especially simple mixed greens with freshly picked herbs, torn not chopped. My vinaigrette of choice is three tablespoons of extra-virgin oil with one tablespoon of Cabernet red wine vinegar. Add a clove of crushed garlic, a teaspoon of Dijon mustard and a pinch each of sea salt and freshly ground black pepper and I'm in alchemist heaven.
Preparing vinaigrette isn't difficult, but it does require mastery of a technique known as "emulsion"—vigorous whisking to bring oil and vinegar together into a homogeneous blend. Give it a try.


1.Place the base ingredients in the bowl as directed in your recipe.

2.Add the oil in a thin, steady stream while whisking the mixture vigorously.

3.If at any time the emulsion begins to look "broken" or curdled, stop adding the oil and continue to whisk until smooth.

4.Continue adding oil very gradually until finished.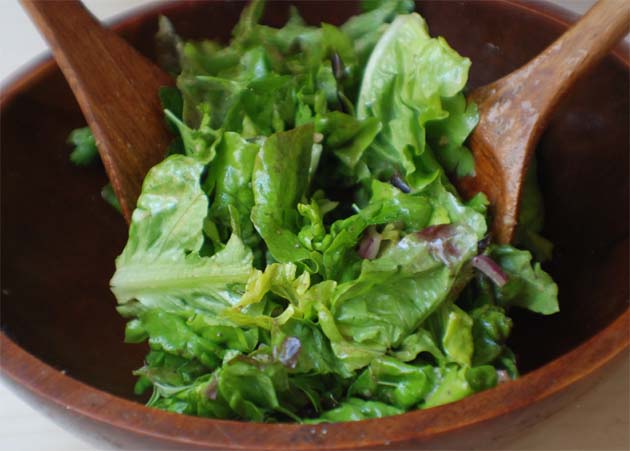 Wash and dry your greens thoroughly before dressing. Excess water will dilute your vinaigrette. Add just enough dressing to lightly coat each leaf.
Vinaigrettes are best made a few minutes before using, but can be stored a day or two and re-whisked. But why? Fresh is best.
Print a copy of my How To Make an Emulsion for your convenience.