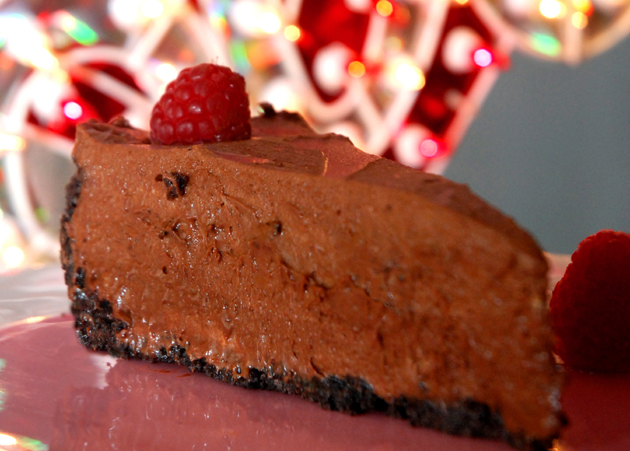 When I was a kid, Oreos were my favorite cookies in the whole world. Today, they are the dark crunchy crust of my decadent chocolate mousse pie. It's a bit more sophisticated but just as memorable. This deep, rich chocolate dessert is my Valentine to you.
As an eater, I'm not sure which gives more pleasure: licking the spoon after folding mounds of freshly whipped cream into liquid chocolate infused with espresso and Kahlúa, or just dipping Oreo cookies into an icy-cold glass of milk, then sucking them dry until the next dip. Chocolate love needs no real thought—it just is.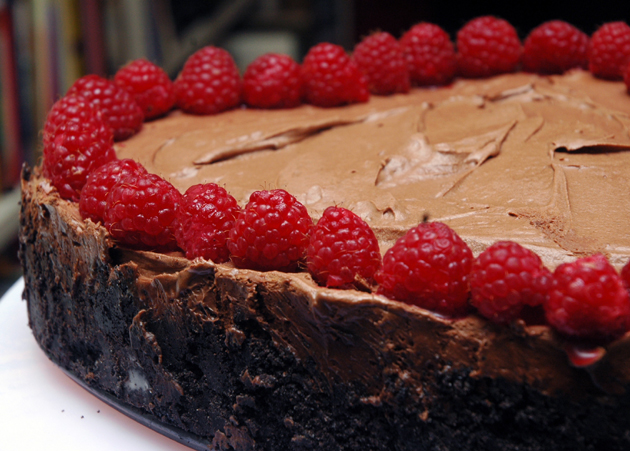 This pie is a showstopper dessert—the "wow!" both at large gatherings and spoon-to-spoon, one-on-one with your special love. And it gets better—especially for you, the cook—because this pie is easy to assemble and can be conveniently made a day ahead.
To start, you'll need a 10-inch round springform pan to mold and chill the pie. For Valentine's Day, I used a special heart-shaped springform that I bought at a local kitchen store. These pans have side latches that make removing the pie in one piece fairly foolproof. After all, who wants all that chocolate love on the floor or in multiple pieces of ugly on the serving plate?
Think you're too busy to try this? Time is on your side as the crust and mousse are ready in approximately 30 minutes. And while the recipe allows for a quick chill of four to six hours, mousse pie is best when chilled overnight. Now if you are new to cooking or never attempted a dessert like this, don't be shy. Jump right in and refer to my illustrated, step-by-step cooking techniques and tips for help.
The ingredients are easy: double-chocolate Oreos (any style will work, as there is no wrong Oreo), semi-sweet chocolate chips, espresso powder, Kahlúa, butter, eggs and heavy cream—plus decorations of your choice. My personal Valentines get fresh raspberries, but you could pipe whipped cream on top, add shaved chocolate or colorful holiday candies or sprinkles.
On the day I removed my mousse pie from the refrigerator and outlined it with plump red raspberries, I couldn't help humming a bit of Janis Joplin, "…come on, come on…take another little piece of my heart…it makes you feel good."
Happy Valentine's Day!
Refer to my illustrated, step-by-step cooking techniques and tips:
Make a Crumb Crust
Melt Chocolate
Grease and Flour a Cake Pan
Unmold Your Cake from a Springform Pan