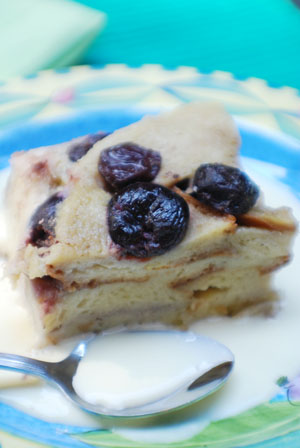 Cherry Bread Pudding with Crème Anglaise Recipe
This heavenly pudding is a great way to show off the natural splendor of sweet, juicy cherries. It's everything you need for a casual summer party: simple, scrumptious and sized to serve a crowd.



Ingredients
5
cups
half-and-half
10
eggs
1 1/2
cups
sugar
2
teaspoons
vanilla
1 ½
to 2
loaves
Challah bread, sliced diagonally ¼" thick
4
cups
cherries, pitted*
1
recipe
Crème Anglaise
*You may substitute thawed frozen fruit when cherries are out of season.
Directions
Working in batches, place the half-and-half, eggs, sugar, and vanilla in a blender and blend smooth. Transfer the whole mixture to a large bowl and whisk briefly to ensure that the custard ingredients are evenly distributed.
Pour 2 cups of the custard mixture over the bottom of the 13 x 9 x 2-inch baking dish.
Working in layers, arrange 1/4 of the bread slices evenly over the bottom of the baking dish. Place 1/4 of the cherries randomly over the top. Pour two more cups of custard over the top and gently press down to soak the bread.
Repeat the process three more times.
Using your clean hands, gently press the layers down so they soak up the liquid.
Cover with plastic wrap and place in the refrigerator for 8 hours or overnight.
Remove from the refrigerator and let stand until the mixture reaches room temperature (about one hour).
Pre-heat the oven to 350-degrees.
Bake the pudding for 45–60 minutes, or until puffed and springy in the center. Remove from the oven and cool until warm or room temperature.
To serve, spoon the pudding into bowls and ladle the crème Anglaise over it.
Preparation Time:
15–20 minutes prep; eight hours minimum soaking time; 45–60 minutes baking time.