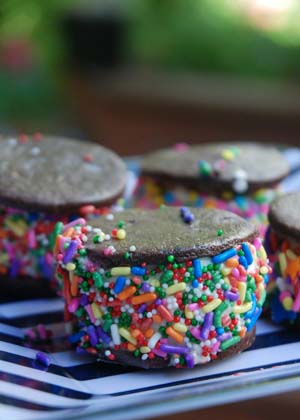 Chocolate Wafer Ice Cream Sandwiches
Ice cream sandwiches are one of those treats most of us know best in their mass-produced, store-bought form. My version takes that lovable classic one step further with the goodness of homemade wafers and fun sprinkles for extra flair.



Ingredients
| | | |
| --- | --- | --- |
| 1/2 |  cup | unsalted butter, room temperature |
| 1 | cup | sugar |
| 2 | large | eggs, room temperature |
| 1-1/2 | teaspoons | vanilla |
| 2 |  cups | flour |
| 1/2 |  cup | Dutch-process cocoa |
| 2 |  teaspoons | espresso powder |
| 1 |  teaspoon | baking powder |
| 1 | teaspoon | salt |
| ~ | | favorite ice cream, slightly softened |
~                           sprinkles, tiny chocolate chips, chopped candies or nuts for decoration
Directions
In the bowl of a stand mixer cream the butter and sugar until light and fluffy–approximately 2 minutes.
Add the eggs, one at a time, beating well after each addition and scraping the bowl as needed.
Blend in the vanilla extract.
In a separate bowl, whisk together the flour, Dutch-process cocoa, espresso powder, baking powder and salt.
Set the mixer to low speed and gradually add the dry mixture, scraping as needed. Don't overmix.
Gather the dough into a ball, cover with plastic wrap and chill for 1 hour.
Preheat the oven to 350 degrees and line two baking sheets with parchment paper.
Lightly flour a clean working surface and roll the dough to approximately 1/8-inch thick. Cut the wafers using a biscuit or cookie cutter, sturdy glass or lid.
Place the wafers on the prepared cookie sheets, spacing them 1-2 inches apart.
Place on the middle rack of the oven and bake until

barely set

. Small shapes will require 5–6 minutes while larger ones require 7 or more minutes. Wafers will have a sheen and appear raw. Don't worry; remove them and cool. They firm up and make a soft texture that works best when frozen with the ice cream filling.
Gently transfer the cookies to a metal rack and cool completely.
Place the cooled, empty, parchment-lined cookie sheets in the freezer.
Working  in batches, place six cookies on a flat working surface and fill with ice cream. Top with a second cookie.
Lightly  press the sandwiches to distribute the ice cream.
Using clean hands quickly press the sprinkles or decorations on the sides of the sandwich.
Set the sandwiches on the cold cookie sheet in the freezer and firm up for several hours. Repeat the process until completed.
Wrap the sandwiches with plastic wrap and store in the freezer.
Preparation Time:
approximately 60 minutes baking, cooling and assembly time. At least two hours freezing time.