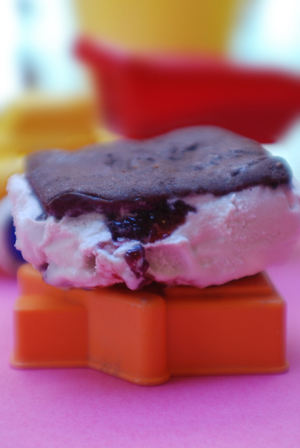 Chocolate Raspberry Ice Cream Sandwiches Recipe
A classic flavor combination meets a classic summer treat. What's not to love?



Ingredients

* Substitute a quart of best-quality store bought vanilla ice cream if preferred.**Seedless raspberry jam is sometimes hard to find. Good grocery stores often stock it along with a selection of "all fruit spreads". If not available, strain a jar of raspberry jam with seeds. It's definitely worth the effort.
Directions
Prepare the

vanilla bean ice cream

as directed.
Fold in½ cup of Chambord liqueur and freeze for 4–6 hours.
Alternately, purchase a quart of vanilla ice cream, allow it to soften a bit and beat in the Chambord. (An electric mixer makes it easier to do this quickly, before the ice cream softens up too much.) Freeze until solid.
Prepare the chocolate wafers.
Cool the wafers and spread them with seedless raspberry jam.
Remove the ice cream from the freezer and scoop or cut a piece of ice cream to fit between the wafers.
Sandwich the ice cream between the chocolate wafers.
Wrap the sandwiches individually in plastic wrap or foil and freeze for at least 2 hours.