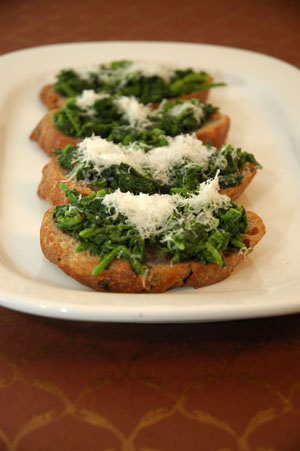 Walnut Bruschetta with
Broccoli Rabe
Recipe
This easy starter is the essence of simple elegance—just a few ingredients combined for superb flavor and texture. The broccoli rabe mixture also works wonderfully on pasta.



Ingredients
| | | |
| --- | --- | --- |
| ~ | | Kosher salt |
| 1/4 | tsp | red pepper flakes |
| 1 | loaf | walnut levain bread* |
| ~ | | extra virgin olive oil |
| 2 | bunches | broccoli rabe |
| 2 | cloves | garlic, bruised with the side of a knife |
| ~ | | Shaved Grana Padano or Parmigiano-Reggiano cheese |
*Levain is a classic French bread similar to sourdough. Substitute the walnut levain with any good rustic Italian or French bread.

Directions
Preheat an oven to 400°F.
Cut the bread on a diagonal into slices 1/3-inch thick (eight to 12 slices).
Place the bread on a baking sheet and drizzle with each slice with a scant tablespoon of olive oil.
Bake until the edges are lightly browned, about 10 minutes. Remove from the oven.
Meanwhile, in a large pot, heat 4 quarts of water in to a rolling boil.
Stir in a generous handful of salt.
Trim and discard the thick stems of the broccoli rabe. Cut the remainder into 1-inch lengths.
Cook the broccoli rabe in the boiling water until tender, about 5 minutes. Drain well.
Coat a large skillet with a thin film of oil and place over medium heat. Add the garlic and heat just until the garlic sizzles. Remove from heat.
Add the red pepper flakes and drained greens, tossing to coat.
Spoon the broccoli rabe mixture onto the prepared toasts.
Top with the shaved cheese.
Serve warm or at room temperature.
Preparation Time:
20–25 minutes.