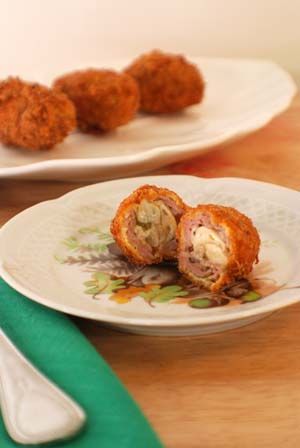 Oyster and Sausage Fritters Recipe
These flavorful fritters make an excellent appetizer or first course. They can be assembled an hour or two ahead, then held in the fridge until you're ready to fry them.



Ingredients
| | | |
| --- | --- | --- |
| 18–24 | | chilled oysters, shelled and drained* |
| 8 | ounces | mild Italian sausage |
| 2 | cups | all-purpose flour |
| 2 | | eggs, lightly beaten |
| 1 | cup | fine breadcrumbs or Panko** |
| ~ | | vegetable oil for frying |
| ~ | | salt |
*Oysters vary in size. Cut them to fit the sausage if they are too large.

**Japanese Panko is a crispier style of breadcrumbs.
Directions
Line a baking sheet with paper towels.
Chill the oysters in the refrigerator until firm.
Remove the casings from the sausage and form the meat into 18-24 small individual patties. Set aside.
 Place the flour in a spacious bowl.
Remove the oysters from the refrigerator and blot dry with a paper towel.
Dredge the oysters in the flour and shake off excess. Set aside.
Place a floured oyster on top of a sausage patty. Fold the sausage over the oyster and pinch the edges, forming a tightly sealed fritter. Repeat with the remaining oysters and sausage.
Place remaining flour, eggs and breadcrumbs each in a separate bowl.
Dredge the fritters in the flour and shake off excess.
Dip them in the egg mixture, then in the breadcrumbs.
Preheat oil to 375 degrees.
Drop three or four fritters into the hot oil and fry until golden brown and crispy.
Remove the fritters with a slotted spoon and place them on the baking sheet. Blot off excess grease with a paper towel.
Salt lightly.
Serve immediately.
Compliments of Seán Canavan, Executive Chef
O'Reilly's Holy Grail restaurant in San Francisco, CA
Barbara Adams Beyond Wonderful features large recipe collections of full-proof quick and easy recipes, classic family favorites, global cuisine, and party ideas. Get illustrated cooking tips and techniques,cooking for beginners, food features, and expert advice on baking, cheese, produce, and wine.
Barbara Adams, Recipe Collections, Quick and Easy Recipes, Party Ideas, Global Cuisine, How To
Cooking Tips and Techniques.
Preparation Time:
Approximately 35 minutes.