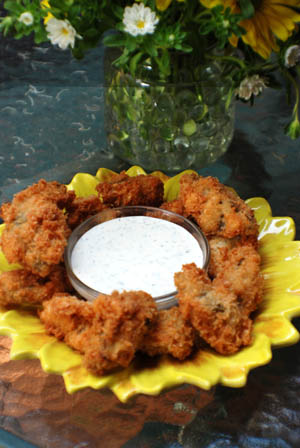 Fried Artichokes Recipe
Only the tender hearts and edible stems of the artichoke are suitable for frying, so you'll end up with quite a batch of leftover petals when you make this recipe. I like to pass these extras around for casual nibbling after the fried treats disappear.



Ingredients
1
cup
flour
1
teaspoon
baking powder
1
teaspoon
garlic powder
1
teaspoon
onion powder
1/2
teaspoon
chili powder
1
teaspoon
salt
1
egg, beaten
1/2
cup
beer
2
egg whites, beaten stiff
6
or
30
mediumbaby
artichokes, cooked, with outer petals removed, hearts and edible
stems cut into bite-sized pieces
1/2
cup
beer
2
egg whites, beaten stiff
2
7-ounce bags
Panko*
Favorite Ranch dressing for dipping
 Packaged Japaneese breadcrumbs known as Panko are found in the Asian section of supermarkets and culinary specialty stores.
Directions
Combine the flour, baking powder, garlic, onion and chili powders, salt, egg and beer in a bowl. Mix well.
Cover with plastic wrap and let ripen for three hours or overnight.
Remove the batter from the refrigerator and fold in the egg whites.
Pour the oil into a heavy-bottomed pan to a 2-inch depth. Using a candy thermometer, heat the oil to 350 degrees. Adjust the heat as needed throughout the frying process to maintain the correct temperature.
Dip the artichoke pieces into the batter and gently shake off the excess.
Drege the batter-dipped pieces in the Panko.
Fry in small batches until crisp and golden—approximately 4–6 minutes per batch.
Remove the fried artichokes with a slotted spoon and place them on a baking sheet lined with paper towels to absorb excess oil.
Sprinkle with salt and serve immediately with ranch dipping sauce.
Preparation Time:
Depends on the artichokes used.