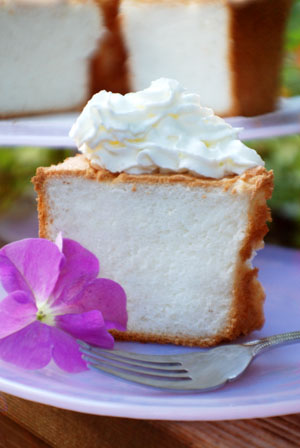 Angel Food Cake Recipe
My mother always made this recipe one day ahead, to give the almond and vanilla flavors time to develop. Try it with Very Berry Topping for a dessert that is not only delicious and attractive, but also fat-free.



Ingredients
| | | |
| --- | --- | --- |
| 1 | cup | cake flour |
| 1 1/2 | cups | fine sugar |
| 12 | | egg whites, room temperature |
| 1/4 | teaspoon | salt |
| 1 | teaspoon | cream of tartar |
| 2 | teaspoons | vanilla |
| 1 | teaspoon | almond extract |
Directions
Pre-heat oven to 325°
Requires an un-greased 10-inch tube pan.
1. Sift the cake flour and ½ cup of the sugar four times. Set aside.
2. Beat the egg whites in a clean, grease-free bowl or the whites will not whip properly. While it's easier to use your electric mixer, you may also whip them by hand with a whisk—until frothy.
3. Add the salt and cream of tartar to the whites and continue beating until soft peaks form.
4. Slowly add the remaining cup of sugar.
5. Add the vanilla and almond extracts.
6. Gently add the flour to the mixture in two additions.
7. Pour the mixture into the tube pan. Sweep a knife through the batter to release air bubbles.
8. Bake on the lowest rack of the oven for one hour, or until the top is lightly browned.
9. Remove the cake from the oven and invert the tube pan on a cake rack to prevent the cake from deflating.
10. Cool for one hour.
11. Loosen the cake by running a knife around the outer edge and center tube, then un-mold.
12. Place on a platter and decorate according to your taste.
Preparation Time:
25 minutes plus one hour baking and one hour cooling time.