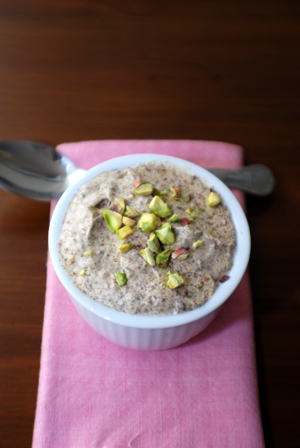 Pistachio and Chocolate Semifreddo Recipe
Light, airy and flavorful, this is like biting into a frozen cloud studded with shards of chocolate and nuggets of pistachio.



Ingredients
| | | |
| --- | --- | --- |
| 1 1/2 | cups | shelled, salted pistachios |
| 3/4 | cup | sugar, divided |
| 6 | | egg whites |
| 2 | cups | heavy cream |
| 4 | ounces | bittersweet chocolate, grated |
Directions
A 2-quart mold or eight 6-ounce ramekins.
In a blender or food processor, process 1 cup of pistachios with all but 2 tablespoons of the sugar. Add the remaining half cup of pistachios and pulse just briefly, so a few good-sized pieces remain.
In the bowl of a stand mixer beat the cream until soft peaks form.
Fold in the ground nuts and grated chocolate.
In another bowl, beat the egg whites with the remaining 2 tablespoons of sugar until semi-stiff.
Fold the egg whites into the whipped cream mixture.
Gently spread into a 2-quart mold or eight 6-ounce ramekins and freeze until firm—about 6 hours.
To unmold, dip the mold in a dish of lukewarm water for 30-60 seconds. Run a knife around the edge and invert.
Serve immediately.
Preparation Time:
Prep Time: 25 minutes; Freezing Time: 6 hours