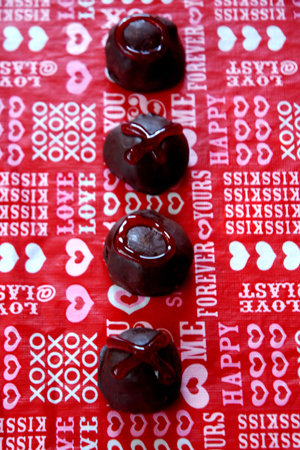 Chocolate-Kahlúa Valentine's Day Truffles Recipe
It's well worth investing in the very best chocolate when creating homemade truffles. This recipe calls for Kahlúa to enhance the flavor, but feel free to experiment with brandy, Grand Marnier or any favorite liqueur.



Ingredients
| | | |
| --- | --- | --- |
| 16 | ounces | best quality bittersweet chocolate, divided* |
| 1/2 | cup | heavy cream |
| 1/4 | cup | Kahlúa |
| 1/8 | teaspoon | salt |
| ~ | | purchased frosting for decorating, optional |
*Use a premium brand such as Scharffen Berger or Valrhona.**Substitute other flavorings such as brandy, Grand Marnier or your favorite liqueur.
Directions
Line a baking sheet with parchment paper and set aside.
1. Melt 8 ounces of the chocolate.
2. Place the cream in a saucepan set over medium heat and bring to a boil. (Watch closely; cream can boil over in an instant.) Remove from the heat and immediately add the hot cream to the chocolate, whisking to blend smooth. Cool slightly, then stir in the Kahlúa and salt.
3. Cool to room temperature, cover with plastic wrap, and refrigerate for several hours.
4. Remove the chocolate from the refrigerator and use a 1 1/4-inch ice cream scoop to create approximately 25 balls. Place each truffle on the parchment-paper lined baking sheet and refrigerate for eight hours or overnight.
Note: Dip the scoop in warm water if the chocolate sticks to the scoop.
Chocolate Coating
1. Melt the remaining 8 ounces of chocolate.
2. Pick up a truffle with two forks and dip it into the melted chocolate. Shake gently to remove excess chocolate, then place the truffle on the parchment-lined baking sheet.
3. Repeat with the remaining truffles and pipe on frosting, if desired. Refrigerate for several hours to set.
4. Remove the truffles from the refrigerator and bring them to room temperature before serving.
Preparation Time:
60 minutes or less and approximately 12–13 hours downtime.