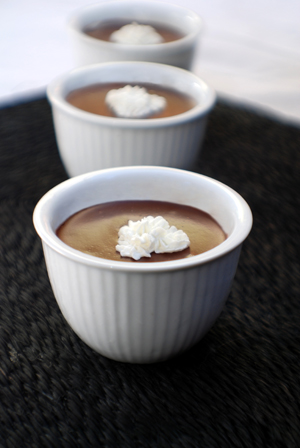 Mexican Chocolate Pots de Crème Recipe
Like an upscale pudding with an unexpected kick, this is no-bake, creamy, spicy chocolate decadence at its best.



Ingredients
12
ounces
good quality semisweet or bittersweet chocolate, finely
chopped
5
large
egg yolks
1/4
cup
sugar
1/4
teaspoon
salt
1 1/2
cups
heavy cream
3/4
cup
whole milk
1
teaspoon
ground cinnamon
1/4
teaspoon
cayenne pepper
2
tablespoons
Kahlúa (optional)
1/2
teaspoon
espresso powder, dissolved in 1 tablespoon hot water
~
whipped cream, as accompaniment
Directions
Melt the chocolate in double boiler or pan set over simmering water. Set aside.
In a medium saucepan whisk together the egg yolks, sugar, and salt.
Add the cream and milk and whisk until combined.
Cook the mixture over a medium-low heat, stirring constantly, until thick and silky (about 10–12 minutes). Do not simmer or boil!Note: To test, coat the back of a spoon and draw your finger through the mixture. If the mark remains straight and set, it's ready. (If disaster strikes and the mixture boils and curdles, strain it through a fine mesh strainer.)
Remove from heat and whisk in the melted chocolate, cinnamon, cayenne, Kahlua and espresso mixture.
Pour into eight 5-ounce ramekins. Gently bang each one against the counter to remove any air bubbles.
Once the ramekins have reached room temperature, cover them with plastic and chill at least 5 hours or overnight.
Remove the pots from fridge about 30 minutes before serving. Garnish with whipped cream.
Preparation Time:
45 minutes; Fridge Time: 5+ hours