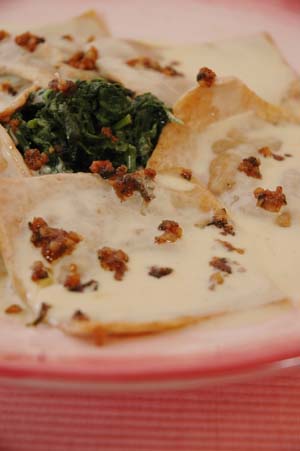 Nettle and Spinach Ravioli Filling Recipe
Nettles—often known as "stinging nettles"—grow rampant in Ireland and much of the United States. The stalks of the plant are covered with tiny, potent spines that impart a nasty burn on contact with the skin. The fresh young leaves, on the other hand, are delectable when cooked as you would baby spinach or other tender greens. Look for nettles at produce markets during the spring.



Ingredients
| | | |
| --- | --- | --- |
| 1 | large head | garlic, peeled |
| 1/3 | cup | olive oil |
| 1 | pound | fresh nettles |
| 8 | ounces | fresh spinach leaves |
| 4 | ounces | feta cheese |
| 1 | | lemon, zested |
| 1 | tablespoon | fresh mint, chopped |
| 1/2 | teaspoon | freshly ground black pepper |
| 1 | recipe | fresh pasta, cut for ravioli* |
.*Use your favorite fresh pasta recipe. If you'd prefer not to make your own, some Italian specialty markets will sell sheets of fresh pasta dough, rolled and ready for shaping, upon special request.
Directions
Separate the head of garlic into cloves and peel them.
Combine the garlic and olive oil in a small pan and cook over low heat for about 30 minutes, stirring occasionally, until the garlic is very soft. Allow to cool, then puree and set aside.
Fill a large bowl with ice water and set aside.
Bring about three quarts of salted water to a boil, add the nettles and spinach and cook for about a minute, until wilted.
Drain the nettles and spinach, then plunge them into ice water to stop the cooking. Drain, and squeeze out the excess water.
Place the nettles, spinach, feta cheese, lemon zest, mint, ¼ cup of the garlic puree, salt and pepper in a food processor and puree.
Taste and adjust the seasonings.
Shape and fill raviolis according to your favorite method.
Preparation Time:
Approximately 45–60 minutes.