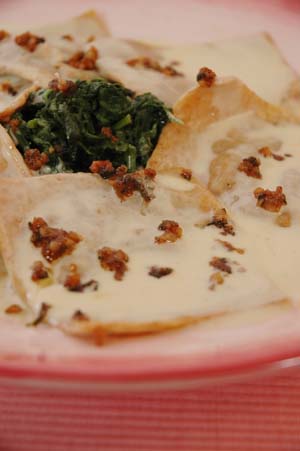 Nettle and Spinach Ravioli with Blue Cheese Sauce and Brown Butter-Walnut Pesto Recipe
A decidedly Irish take on an Italian classic, this rich, flavorful dish uses Ireland's famous Cashel Blue cheese and tender spring nettles—a wild green that became popular out of necessity during the great famine.



Ingredients
*Use your favorite fresh pasta recipe. If you'd prefer not to make your own, some Italian specialty markets will sell sheets of fresh pasta dough, rolled and ready for shaping, upon special request.
Directions
1. Prepare the ravioli according to the directions of your fresh pasta recipe.
2. Stuff the raviolis with the Nettle and Spinach filling and seal the edges.
3. Cook and drain the ravioli, and toss them with blue cheese cream sauce.
4. Arrange the sauced ravioli on individual serving plates and sprinkle with brown butter-walnut pesto.
Preparation Time:
Plating of pre-cooked pasta, sauce, and pesto takes under 10 minutes for six servings.