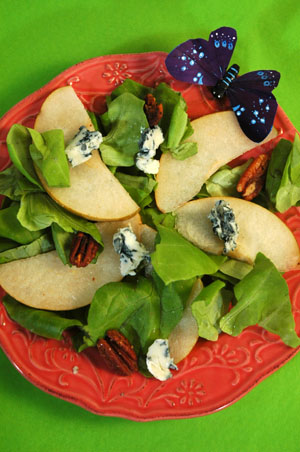 Butter Lettuce with Pears, Spiced Pecans, and Blue Cheese Recipe
Take advantage of sweet autumn pears in this crisp, hearty salad. Most varieties of pears will work well here, but beautiful red Bartletts make an especially colorful presentation.



Ingredients
*Use the red Bartletts, or try Anjou, Shinko Asian, or Bosc pears.
Directions
1. Tear the lettuce into bite-sized pieces.
2. Divide the lettuce onto two plates.
3. Top with the sliced pears, blue cheese, and spiced pecans.
4. Drizzle the walnut dressing over the salad.
5. Serve immediately.
Preparation Time:
Under 5 minutes with pre-made spiced pecans and walnut dressing.