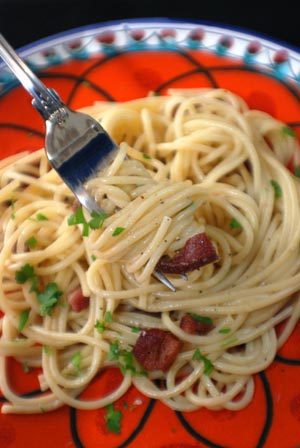 Spaghetti Carbonara Italian Recipe
As is so often the case with traditional dishes, theories abound about the origins of pasta carbonara. Because its name is derived from the Italian word for coal, some suggest that it was originally created as a hearty, simple supper for hungry charcoal workers. If you ask me, it's the perfect simple supper for hungry people of all kinds!



Ingredients
| | | |
| --- | --- | --- |
| 2 | tablespoons | olive oil |
| 1/2 | pound | pancetta, sliced thick and cubed* |
| 4 | | eggs, beaten, room temperature |
| 1 1/2 | cups | grated parmesan cheese, divided |
| ~ | | freshly ground black pepper |
| 1 | pound | dry spaghetti |
| 1/4 | cup | pasta cooking water for thinning the sauce |
| ~ | | chopped Italian parsley for garnish, optional |
*You may substitute thick-cut, cubed bacon for the pancetta. Cooks in Italy prefer guanciale (unsmoked pork bacon made from pig's cheeks or jowls), which is often difficult to find here.
Directions
Heat the olive oil in heavy-bottomed skillet until sizzling.
Sauté the pancetta until crisp and rendered of its fat; set aside and keep warm.
Whisk the eggs, one cup of the parmesan cheese and some black pepper in a bowl. Set aside.
Cook the spaghetti according to the instructions on the package, then drain, making sure to reserve a small amount of the cooking water for the sauce.
Immediately transfer the hot pasta to a spacious skillet or a large, open bowl.
Pour the egg-cheese mixture over the hot pasta and mix well.
Add the pancetta and its fat. Mix well.
Add a ¼ cup of the pasta cooking water. Stir and add more water if needed.Note: Use a light hand with the water, or you'll end up with pasta swimming in liquid.
Serve garnished with extra parmesan cheese and Italian parsley.
Preparation Time:
about 25 minutes