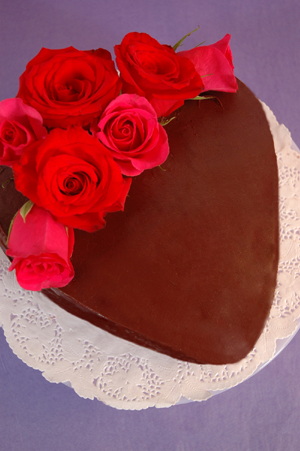 Chocolate Valentine's Day Ganache Cake Recipe
Chocolate ganache filling and glaze transform ordinary layer cake into an elegant affair.



Ingredients
*Use your favorite chocolate cake recipe, or a mix if you absolutely must.
Directions
Spread 2/3 of the filling evenly over the top of one cake layer.
Carefully place the second layer on top.
Use the remaining filling to frost a thin "crumb coat" on the cake, sealing in crumbs and making a smooth base for the glaze.
Place the cake on a wire rack set over a baking sheet. (The baking sheet will catch all the chocolaty drips.)
Pour the ganache glaze over cake, coating the entire cake evenly.
Garnish the cake with toasted nuts while the glaze is still soft, or wait until it is set and garnish with fresh flowers, powdered sugar or whipped cream.
Allow the ganache to firm for at least 1 hour before serving.
NOTE: A ganache-glazed cake may be refrigerated, but it tends to lose some of its sheen.
Preparation Time:
Under 20 minutes with one hour downtime.