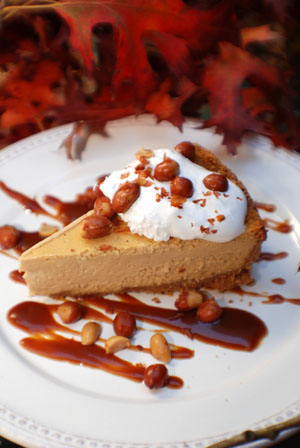 Scrumptious Caramel Cheesecake Recipe
Caramel, marshmallow and salted peanuts create a combination of flavors that's truly dazzling.



Ingredients
| | | |
| --- | --- | --- |
| 1 1/2 | cups | graham cracker crumbs |
| 3 | tablespoons | unsalted butter, melted and cooled |
| 1/8 | teaspoon | salt |
| 1 1/2 | cups | heavy cream |
| 1 | tablespoons | corn syrup |
| 1 1/2 | cups | sugar |
| 1/2 | cup | sour cream |
| 3 | (8-ounce) packages | cream cheese, room temperature |
| 1/8 | teaspoon | salt |
| 4 | large | eggs |
| 2 | teaspoons | vanilla |
| 1 | recipe | Marshmallow Fluff |
| 1 | cup | salted Spanish peanuts |
Directions
Preheat oven to 350 degrees.
In a small bowl combine the crumbs, melted butter and salt.
Press the mixture into the bottom and sides of a 9-inch springform pan.
Bake for 12 minutes.
Remove from the oven and cool.
In a saucepan bring the heavy cream to a simmer and whisk in the corn syrup. Set aside and keep warm.
In another heavy-bottomed saucepan heat the sugar over medium-high heat until the sugar melts and begins to turn golden, about 10–12 minutes. Shake the pan occasionally to prevent the sugar from sticking or burning.
Continue cooking, swirling the pan, until the mixture is a deep golden brown.
Remove from heat and carefully whisk in the warm cream.
Caution: Cream will sputter and burble when it hits the hot sugar. If caramel clumps up, return the pan to medium low heat and continue to cook, stirring constantly, until the caramel dissolves.
Remove from the heat and measure out 1 cup of caramel for the cheesecake (reserve remaining caramel sauce for serving).
In a small bowl whisk together the 1 cup caramel and the sour cream.
In the bowl of a stand mixer beat the cream cheese until fluffy. Add the caramel/sour cream mixture, mixing well.
Add the eggs, 1 at a time, mixing well and scraping the bowl after each addition; mix in the vanilla.
Pour the mixture into the prepared crust and place the springform pan on a baking sheet (to catch any drips).
Bake for 50–55 minutes or until the cheesecake is set on the sides and still shimmers slightly in the center when shaken.
Remove from the oven and cool completely.Note: If making cheesecake in advance, remove the sides from pan, gently cover with plastic wrap and refrigerate.
To serve, drizzle each plate with caramel sauce and place a slice of cheesecake in the center. Top with a dollop of marshmallow and sprinkle liberally with salted peanuts.
Preparation Time:
under 60 minutes plus 50-55 minutes baking time.